How to Write Leave Applications Your School Can't Refuse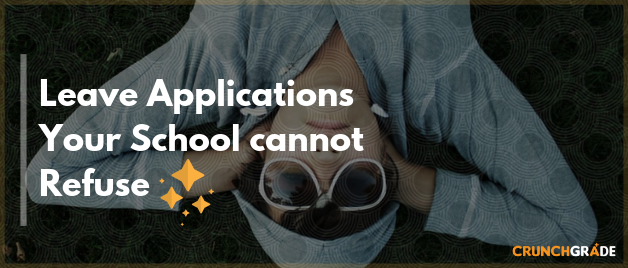 Is your school too stringent about leave applications? Want to know the trick to write a leave application that would promptly get accepted? Well, there can be various scenarios when you need to take leave from school. Some reasons are quite straightforward such as sickness or an emergency. However, sometimes due to the inadequate explanation you might not receive the right response. To get your leave approved promptly, your application must be written in a convincing manner and reasons for leave should be genuine.
So here are some tips and examples on how to write a leave application that your school would never refuse!
Introduce yourself clearly
Start your application by introducing yourself, especially when you are writing to your principal you should always mention your name and grade or class in which you study. If you are writing this application to your class teacher mention your name or student roll number.
Example,
"I am Michelle a student of grade 9."
"My ward Michelle studies in grade 2 in your school."
State the reason of seeking leave
You should clearly specify why you are not able to attend school. You may do this in one or two sentences. Also, you should mention the duration of leave along with clearly.
Example,
"I have recently been discovered with kidney stones and hence need to get the surgery done this month. My doctor
has suggested that it would take around 5 days for the procedure and recovery. So I would not be able to attend
the classes from February 4, 2019, to February 8, 2019."
"My daughter is suffering from stomach infection so I request you to grant leave for the next two days to recover
from the same that is, February 4 and February 5."
Add details if necessary
As you have mentioned the reason for taking leave from school you may add up a few lines to stress upon the fact that taking leave is necessary for you.
Example,
"Since I am suffering from a communicable disease my doctors recommend me to take complete rest until I am cured."
"We have tried to shift the date of the visa interview but the authorities do not work on weekends so it is
necessary for my daughter to schedule an interview this Wednesday only."
State how will you compensate for the loss of your study
It is a good way to reflect your sincerity towards your studies by stating how you will manage the school work. As a parent, you should state how you will take care of your ward's studies.
Example,
"I will take notes from my classmate and would complete the school work before joining."
"I will make sure that my daughter completes the school work by the weekend and takes notes from her friends."
Ask them to grant the leave
It is always recommended that you politely request your teacher or principal to grant you leave. Also, you may thank them in advance for their permission.
Example,
"I will be grateful if you grant me leave for the specified period."
"I request you to kindly grant a day's leave to my son so that he can attend the ceremony with his family."
Mention any documents that you have attached with the application
If you are providing any medical documents like reports or prescriptions or any invitation on appointment letters mention the same in your application. This would not only authenticate your application but would reflect your courtesy.
Example,
"I am attaching the doctor's reports for your reference."
"Please find a copy of the visa appointment letter attached with this application."
Few more tips for you!
Mention the date properly
— "January 14, 2019"
Mention the principal's or the teacher's address
— "Principal David Richard
Alpha States High School"
Always mention the subject
— "Subject: School Leave Request for Michelle Jones"
Address your teacher or principal respectfully
— "Respected Madam / Sir"
"Madam Headmistress"

Here are few templates of leave applications
From
Sachin Patel,
304 Breeze Towers,
Atlanta
DD/MM/YYYY
To,
The Principal,
Grammar School
Bandra
Subject: Leave letter due to fever
Respected sir,
My ward Tanisha Patel studies in your school in grade 2 Tanisha is down web a fever headache/medical. check-
up/chicken pox/cold and cough/eye check-up and so I request you to grant her leaves for five days so that she
recovers properly.
Please accept the request and grant or Leaves for the next five days 10th March to 15th March. Also, request you
to excuse her absence from the annual day practice during this period.
I will make sure that she takes the missed notes from her friends and completes all the homework before she
rejoins the school.
Thank you,
Yours sincerely.
Sachin Patel – Father of Tanisha Patel
Grade 2 – roll number 34
From,
Steve Jones
Rose Street
104 Bridge Towers
Atlanta
DD/MM/YY (Date of Writing the Letter)

To,
The Principal
Bryanston School
Atlanta

Subject: Leave application due to fever

Respected Madam,

My daughter Michelle Jones is a student of grade 4 in your school. I am writing this letter to bring your kind
the attention that Michelle is not feeling well due to a headache/fever/ chicken pox/stomach infection/eye infection. The doctor has recommended her to take proper rest and medications so that she can recover quickly.

Hence I request you to grant her leave for 3 days that is, from DD/MM/YY to DD/MM/YY. Also, please excuse her
absence from the Cultural Fest practice sessions for these three days. I hope she will join her team as soon as
she gets fit.

I will take the class work from her friend and will make sure that she completes it before she joins school again.
Also, I am attaching her medical certificate for your reference with this letter.

Thanking you,

Yours sincerely,
Steve Jones
(Father of Michelle Jones,
Grade 4)
If you're looking to become a pro in writing essays and applications, you can take help from a professional English tutor at CrunchGrade.
You can try it for FREE!