Best Primary Schools in Tasmania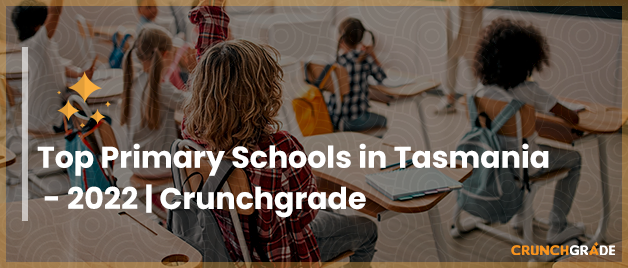 Top Primary Schools in TAS 2022
| | | |
| --- | --- | --- |
| Rank | School | Total Enrolments in 2021 (Approximate) |
| 1 | Mount Nelson Primary School, Mount Nelson, TAS | 260 |
| 2 | Princes Street Primary School, Sandy Bay, TAS | 370 |
| 3 | Fahan School, Sandy Bay, TAS | 390 |
| 4 | Albuera Street Primary School, Hobart, TAS | 260 |
| 5 | Goulburn Street Primary School, West Hobart, TAS | 250 |
| 6 | Trevallyn Primary School, Launceston, TAS | 460 |
| 7 | South Hobart Primary School, South Hobart, TAS | 500 |
| 8 | Mount Stuart Primary School, Mount Stuart, TAS | 350 |
| 9 | Taroona Primary School, Taroona, TAS | 320 |
| 10 | The Launceston Preparatory School, Launceston, TAS | 120 |
| 11 | Oakwood School, Claremont, TAS | 120 |
| 12 | Waimea Heights Primary School, Sandy Bay, TAS | 390 |
| 13 | Calvin Christian School, Kingston, TAS | 530 |
| 14 | Lenah Valley Primary School, Lenah Valley, TAS | 580 |
| 15 | Lansdowne Crescent Primary School, West Hobart, TAS | 430 |
| 16 | Bruny Island District School, Bruny Island, TAS | 60 |
| 17 | John Calvin School, Launceston, TAS | 110 |
| 18 | Illawarra Primary School, Blackmans Bay, TAS | 430 |
| 19 | The Hutchins School, Sandy Bay, TAS | 1020 |
| 20 | Scotch Oakburn College, Newstead, TAS | 1090 |
| 21 | The Cottage School, Bellerive, TAS | 70 |
| 22 | Riana Primary School Riana, TAS | 120 |
| 23 | Launceston Christian School, Launceston, TAS | 650 |
| 24 | St Michael's Collegiate School, Hobart, TAS | 710 |
| 25 | Forth Primary School, Forth, TAS | 220 |
*This ranking is based on the NAPLAN results of different primary schools in TAS.
Also, Read – Best Primary Schools in NT
Tasmania Primary School Curriculum
All top schools in Tasmania follow the Australian Curriculum. The students are assessed with NAPLAN in years 3 and 5 respectively. This includes 8 learning areas:
Humanities and Social Sciences
The Arts
Technologies
Health and Physical Education
Also, Read – Best Primary Schools in South Australia school.
Here are a few things that you can consider when you decide on a primary school:
The location of the school
Affordability (fees, additional costs, transportation charges, etc.)
The reputation of the school
Quality of education provided
Extracurricular activities
Involvement of parents
How is the principal of the school
How are the school classrooms
What do students do at playtime
How teachers interact with the students
Are they any additional assistants available for teachers
What technologies are being used to teach students
Also, Read – Best Primary Schools in ACT
CrunchGrade is Here for Your Child in Primary School and Beyond
No matter which school you choose for your child, CrunchGrade is here to help your child beat the competition and stay on top in the primary school. We are here to guide, support, tutor and encourage young minds to overcome their learning challenges in primary school and thrive in studies.
Our primary school tutors are well-versed in the Australian curriculum.
We use innovative teaching methods to help students grasp the basics of numeracy and literacy in primary school.
You can find primary school tutors at CrunchGrade that match your learning needs.
Our tutors provide a personalised learning program for the student based on their level of understanding and learning capabilities.
Students can learn at their own pace, from the comfort and safety of their homes and master the primary school curriculum with us.
We keep parents informed about the child's progress in school as well as in tuition.
We are not just providing students with pre-recorded lectures. We support active learning by providing students with face-to-face, live, interactive sessions.
Check our tutor profiles to know more about their qualifications, primary school teaching experience, and student ratings. Book a free first session with us now!
Find the best tutors from all across Australia – Sydney, Melbourne, Adelaide, Perth, Newcastle, Goldcoast, Canberra, Brisbane.
To make it easier for you to decide, your first session is completely FREE!
Select and book a tutor for Math, Science, English and all the other subjects.