Best High Schools in WA – Learning Programs and Curriculum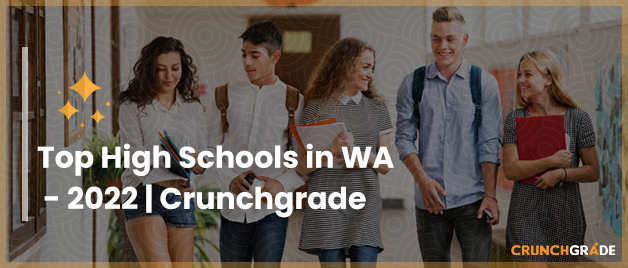 Top High Schools in WA
High School education in WA begins from Year 7 and continues until Year 12. It is a period of the most crucial six years of every student's life. Choosing a top high school in WA is necessary for students for a better future. Enrolling in one of the best schools ensures that you will get a better learning environment, better education, and complete guidance and support from your teachers.
Students can enrol in government schools, private or independent schools, or Catholic schools based on their convenience and preferences. There are around 777 state government schools, 159 Catholic education schools and 132 independent sector schools in Western Australia.
Top High Schools in WA 2022
| | | |
| --- | --- | --- |
| Rank | School | Median ATAR |
| 1 | Perth Modern School | 96.45 |
| 2 | St Hilda's Anglican School for Girls | 92.85 |
| 3 | Christ Church Grammar School | 92.8 |
| 4 | Hale School | 91.85 |
| 5 | Penrhos College | 91.45 |
| 6 | St Mary's Anglican Girls' School | 91.05 |
| 7 | Perth College | 91 |
| 8 | St Mark's Anglican Community School | 90.85 |
| 9 | Methodist Ladies' College | 89.95 |
| 10 | John XXIII College | 88.8 |
| 11 | Willetton Senior High School | 88.75 |
| 12 | Rossmoyne Senior High School | 88.65 |
| 13 | Wesley College | 88.55 |
| 14 | Presbyterian Ladies' College | 88.25 |
| 15 | Mercedes College | 88.15 |
| 16 | All Saints' College | 88 |
| 17 | Carmel School | 87.95 |
| 18 | Carnie Senior High School | 87.9 |
| 19 | John Calvin Christian College | 87.75 |
| 20 | Great Southern Grammar | 87.25 |
| 21 | Ursula Frayne Catholic College | 87.05 |
| 22 | Santa Maria College | 87 |
| 23 | Shenton College | 86.95 |
| 24 | Applecross Senior High School | 86.85 |
| 25 | Christian Brothers College | 86.25 |
*This ranking is based on Median ATAR scores in 2021of high schools in WA.
Curriculum Followed by top High Schools in WA
WA high schools follow the Australian Curriculum until Year 10. For senior secondary years (Years 11 and 12), the schools follow the WACE (Western Australian Certificate of Education) syllabus and requirements. For the first three years of high school, students study the same subjects as primary school and undertake the NAPLAN test in Year 9.
From Year 10 in high school, the subjects are reduced to six. In Year 12, students study only 5 subjects that they choose based on their interests or what they plan to study in higher education. English is the only compulsory subject in high schools in WA.
At the end of Year 12, students compete for WACE (Western Australia Certificate of Education). This certificate is recognised by universities, technical colleges and employers in Australia.
Learning areas and courses until Year 10
Health and Physical Education
Humanities and Social Sciences
Languages
Technologies
The Arts
Learning areas and courses for Year 11 and Year 12
English
Arts
Dance
Design
Drama
Media Production and Analysis
Music
Visual Arts
Health and Physical Education
Health Studies
Outdoor Education
Physical Education Studies
Humanities and Social Studies
Aboriginal and Intercultural Studies
Accounting and Finance
Ancient History
Business Management and Enterprise
Career and Enterprise
Geography
Modern History
Philosophy and Ethics
Politics and Law
Religion and Life
Languages
Aboriginal Languages of WA
Chinese: Second Language
Chinese: Background Language
Chinese: First Language
French: Second Language
French: Background Language
German: Second Language
German: Background Language
Indonesian: Second Language
Indonesian: First Language
Interstate Languages
Italian: Second Language
Italian: Background Language
Japanese: Second Language
Japanese: Background Language
Mathematics
Mathematics Specialist
Mathematics Foundation
Mathematics Preliminary
Science
Animal Production Systems
Aviation
Biology
Earth and Environmental Science
Human Biology
Integrated Science
Marine and Maritime Studies
Physics
Plant Production Systems
Psychology
Technologies
Applied Information Technology
Automotive Engineering and Technology
Aviation
Building and Construction
Children, Family and the Community
Computer Science
Design
Engineering Studies
Food Science and Technology
Materials Design and Technology
Vet Industry Specific
Automotive
Business and Financial Services
Community Services and Health
Construction Industries
Creative Industries
Engineering
Hospitality and Tourism
Information and Communications Technology
Primary Industries
Sport and Recreation
Things to Consider while Choosing the Best High School in WA
Discuss your child's preferences 
You must sit with your child and evaluate their preferences and interests. Then, you should choose a school that offers courses that match your child's preferences and interests.
Be frank with your child and ask them what they want before you provide them with your suggestions or opinions. For instance, your child might want to go to the same school as their friends. They might be willing to travel a little bit further if they get to enrol in one of the best high schools in WA.
Think long term
Decisions about choosing high schools should be based on the pathways your child would want to take in the later years. It might be hard to make a firm decision about your future before high school but at least you can choose based on what seems right for your child at the moment.
Students in WA have a variety of options to choose from after Year 10 like VCE, VCAL, VET or IB. They also leave school and pursue TAFE or apprenticeship. The best high schools in WA also provide university-like environments and courses. They are given the opportunity to take responsibility for their learning and the teaching style is more collaborative in such schools.
Make a list 
Does your child want to enrol in a state school? Do they want to get into a Catholic school? Whatever your choice is, make a list of the best high schools in WA or your area. This will help you visualise your choices and will make it much easier for you to make a decision.
Without a list, things might get confusing. You might search for a school one day and take note of its features and forget about it the next day. But, if you maintain a list, you can maintain a record for all the top schools.
Consider cost and convenience
The location of the high school matters for your child. If their school is near the house, they can walk easily to the school. It would not only save transportation costs but will also save their time. On the other hand, if the school is located a bit farther away from your house, it would add the additional cost of transportation and it would also take more time to commute.
You must also consider the costs involved in your child's schooling. This not only accounts for the tuition fee but also for additional costs like camps, uniforms, laptops and extracurricular activities. You and your child must think about such basic yet important issues before making a decision regarding your school.
Make CrunchGrade Your High School Partner
Getting into one of the top High Schools in WA is great, but you need a study partner who can guide you throughout the academic year. CrunchGrade provides the best online tutoring options for high school students in WA. Our live, interactive and personalised learning programs will help you enhance your conceptual understanding and score better grades in assessments.
Here's what makes learning with CrunchGrade unique and rewarding:
We have the best subject matter experts for Maths, Science, English, Technology and other high school subjects from WA and other parts of Australia.
Students can study at their own pace, schedule learning sessions according to their convenience and create personalised learning plans based on their study requirements.
Our tutors are well-versed with the WACE curriculum and help students prepare the best for their future.
We provide doubt removal sessions and revision classes so that students can strengthen their conceptual understanding of the topics.
We encourage students to actively participate in the online learning sessions and for that, we use the most engaging teaching techniques like gamification, visualisation, etc.
Check tutor profiles for high school tutors in WA from our website and know more about their qualifications, teaching experience and student ratings.
Frequently Asked Questions
How many high schools are there in Western Australia?
There are more than the top 50 high schools in WA that carry a good reputation in terms of academics, infrastructure, and other aspects.
What's the best high school in Perth?
Perth Modern School is one of the best high schools in Perth as per a Median ATAR score of 96.45 in 2021.
How many public high schools are there in WA?
There are overall 777 public high schools in WA.
What is the biggest high school in WA?
Willeton Senior High School is the biggest and one of the top high schools in WA. It was listed in the top high schools in Perth in 2021.
What is the average ATAR score in WA?
In 2020, the median ATAR was 81.85. (81.05 in 2019). For most WA universities, a scaled score of 50 in an English course demonstrates English proficiency for university entrance.