11 Best Educational Apps for kids – Turn your child into a Genius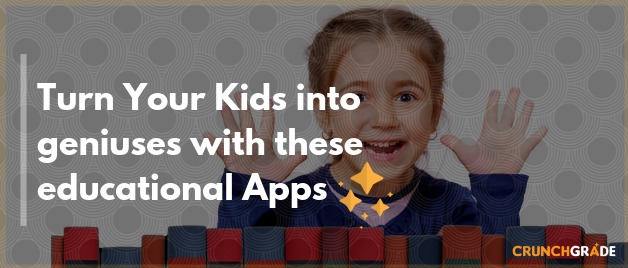 With innovation in technology, the education sector has undergone many changes. One of these is the use of educational apps for kids. These apps are not only flexible and easy to access but interactive, engaging as well. All this has made learning an active entity. It helps kids learn the fundamental concepts of science, math, and linguistics, geography, history and even coding in a way that neither bores them or stresses them out. Following apps support android and ios devices. Here is our list of 11 top educational apps for kids that will turn your kids into geniuses in no time!
Fish School 
An engaging kids app that makes them learn with the help of colorful schools of fishes. With simple touch and drag options, the beginners or pre-schoolers can learn some important concepts such as shapes, numbers, letters, colors and more. There are innovative games like finding the difference and matching that enhance kid's memory.

Habitat the game
Want your kid to learn about the habitats and endangered species on the planet? This app not only lets children of age group 5-8 learn about the conservation of the environment but encourages them to take real-time actions like switching off unnecessary lights in the house or conserving water from getting wasted.
YouTube Kids
By making learning a safer, information-rich and fun experience, YouTube Kids is one of the best apps for kids of all ages. Let them enter a world of video-based learning and entertainment where they can watch their favorite shows and learn every concept through engaging videos. It comes with parental control where parents can set a timer, watch history, control the search options and more.
Spelling Stage
A high-quality app that can help children of age 1 -6 to learn spellings in an entertaining, flexible and engaging way, spelling stage can help kids enhance their vocabulary fast. An easy to handle control panel, sound effects, and audio-visual aids can help kids become better readers right from the beginning.
READ MORE: Mind-Blowing Tips To Increase Concentration Skills In Kids [Proven Secrets]
Leo's Pad
Designed by Stanford University's researchers, this learning app for kids provides information to them with the help of a story. It enhances their creativity, basic understanding of words colors and problem-solving. It has also included notable historical characters such as Galileo and Marie Curie as young children which make the app more engaging for kids. The app is suitable for kids of 7-12 years of age.
Hopscotch
A coding tool designed for students aged 8 years or above is a perfect way to utilize their free time. We all know technology is our present and future hence this app lets them enter the amazing world of creating games, stories, art, and sports through code. Self-paced coding tutorials make this process more personalized for them.
READ MORE: Online Tutoring Vs. In-person Tutoring

NASA Visualization Explorer
Every kid wants to learn about space. What if they can experience the celestial world right on their tablets and smartphones? Available for IOS and Android, this is the best learning app that lets kids find out everything about planets and outer space with animations, images, and visual-graphic effects.
Stack the States
Geography can be fun too! This app will help kids learn everything about states of the US. At first, they can learn all the information with the help of flash cards and then they can answer questions, solve puzzles and test their knowledge.
Duolingo
The bite-sized lessons of this app combined with assessment and progress meter ignite the curiosities of kids to learn new languages. Every lesson gives options to learn via reading, listening, translating and speaking. It also motivates and guides the user on how to improve their language skills.
Pizza Fractions 1
Fractions are hard to learn in the beginning, isn't it? But what if kids can learn it with a pizza? Here is an easy way for elementary school kids to learn fractions with this amusing app. Practice fraction in a game-like environment, set your difficulty levels on your own and progress as you get better.
Play 123
One of the best learning apps for mathematics, Play 123 enhances the working memory of your child. We all know how difficult it is to make them learn fundamental math. This app makes learning basic geometry concepts and logic building more fun. It helps children explore the boundless possibilities of mathematics and helps them succeed at their school easily.
Think Online Learning. Think CrunchGrade!
The tech-savvy generation of today is already into smartphones from an early age. Mobile learning is becoming increasingly popular not only among the adults but kids as well. With lessons being transformed into games, kids are getting introduced to innovative learning methods. Hence, these apps are a perfect way to grab their attention and persuade them to study.
Try Online Tutoring for FREE!