Best Prospective Online Tutoring Websites for 2019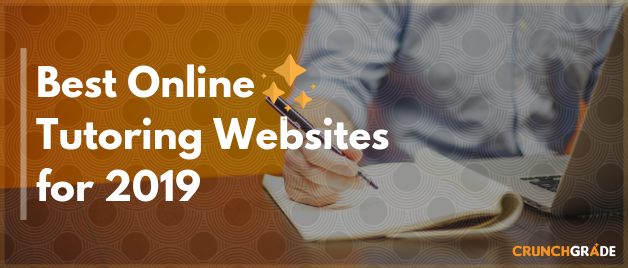 The technology is changing fast. More than 50% of the world's population is expected to be online by next year. Statista reports that 98% of young adults (18-29 years old) in the US use the Internet. Most of the Gen Z or iGen demographic cohort (those born in the mid-1990s to mid-2000s) has been using the Internet since a young age. Social media and technology have been an extension of every aspect of their lives. Naturally, they look up to online education platforms whenever they need academic support and guidance.
Best online tutoring websites for 2019 will certainly be the ones that combine the latest technologies and education to provide quality tutoring services and learning experience to students. Let's look at some of the online tutoring sites that are heading to make it big in 2019:
 Brainly
Brainly is one of the best online learning platforms for students looking for online tutors to solve a specific problem or clear some confusion. To make sure that it maintains high-quality of its online tutoring services, Brainly uses machine learning and AI (Artificial Intelligence) to match the questions students ask with the most suitable content experts.
The focus here is the quality of solutions provided to the students and human moderators monitor it closely. No wonder that Brainly boasts of 100 million unique visits from students from more than 35 countries per month.
 Thinkster Math
Thinkster offers a unique approach to how students study Math. The game-changing innovation it has introduced is that it blends human and artificial intelligence to help online tutors to track how a student solves a Math problem and visualize his or her thought process. This helps a Math coach to identify where exactly a student falters while solving a particular type of problem and come up with better strategies to improve the student's performance.
Some of the most prestigious names in the world of academics are working with this top online tutoring website. The website claims to improve the Math scores of students using it by up to 90% within three months. It offers a free trial too.
Read More: 7 Benefits of Online Tutoring
 Coursera
Stanford professors Andrew Ng and Daphne Koiler founded Coursera. This unique online learning platform works with some of the best-known universities and organizations to offer online courses, degrees, and specialization in a number of subjects (including digital marketing, data science, engineering, medicine, and humanities).
The site has 33 million registered users and is presently offering more than 2,400 courses.
 LinkedIn Learning
Once known as Lynda.com, LinkedIn Learning is a great place to learn from industry experts. It offers personalized learning opportunity using LinkedIn data. LinkedIn, as you know, is one of the biggest professional networks online and hence, the online training courses offered here are designed to help you grow in your career and meet the needs of various industries as well.
Some of the most popular courses on this e-learning site are Design & Photography, Business & Professional Development, Web Design and Development, Mobile App Development, and Marketing & Sales.
It also offers a free trial for one month.
 edX
Like Coursera, edX is a leading MOOC (Massive Open Online Course) provider. It was founded in 2012 by Harvard University and MIT. This online learning destination offers high-quality courses from some of the top-ranking universities worldwide. It is a nonprofit and an open source online learning platform, which means that you can do courses for free here.
While edX offers free learning opportunity on the Internet, students have to pay to get a verified certification on successful completion of a course. These certificates carry value because you need to submit your government-issued ID and photo to establish your identity as well as meet the assignment and exam requirements of the course to get them.
Khan Academy
Nothing compares with Khan Academy when it comes to few legitimate sites for self-learners that offer quality video lectures and study material for free. The courses are quite detailed and quite easy to understand. There are a lot of courses to choose from and the instructors are highly qualified.
The only problem with this website is that they do not offer a dedicated human tutor to help the student- which is what you might be looking for if you are looking for an online tutor.
 Smarthinking
Smarthinking by Pearson is an online tutoring website that offers high-quality academic help to different types of students. The online tutors here offer on-demand individualized instruction and academic support 24 by 7.
The website offers to tutor in a wide variety of subjects – ranging from basic to advanced courses. You can connect with an expert tutor any time you like or schedule an appointment with your favorite tutor beforehand. You can also ask questions offline or submit your assignment or essay to get them reviewed by an expert.
Many colleges allow you to use Smarthinking LMS platform on campus.
Chegg Tutors
Earlier known as InstaEdu, Chegg Tutors is the best e-learning site for students who need immediate help. There are always more online tutors on the site than students which means that students get faster solutions to their problems than most other sites offering similar services.
One of the best online learning sites for students with a time crunch, one can use its services by paying a subscription fee that starts with $15 plan in which you get about 30 minutes per week. If you want to give it a try, you can use their pay-as-you-go plan where each minute costs you about 75 cents.
 Tutor
For higher education, Tutor is one of the best online tutoring websites where you can hire subject experts for personalized one-to-one sessions on a variety of subjects. Whether you are looking for subject help from a pilot or a doctor or a Ph.D. from Ivy League, this website offers you the best selection of tutors.
 Crunchgrade
It is relatively new in the field of online tutoring websites but CrunchGrade made the cut for the best 2019 tutoring websites because it offers excellent features and excellent deals. It has qualified tutors; if your session ends early, you only have to pay for the time you consumed; and if you are not satisfied with the session, you are offered another session with a new tutor for free.
Conclusion
In 2019, online tutoring sites that make sure that they have the best selection of online tutors, the best study material, and the technology to make the learning process intuitive are the ones that are likely to get the most business.
Students who need to solve a specific problem should look for live tutors while others may refer to the video lessons, revision notes, and other study material that various education sites offer.
Try your first lesson FREE for up to 30 Minutes!
Book a Session Now!