25 Expository essay topics for Middle School by Category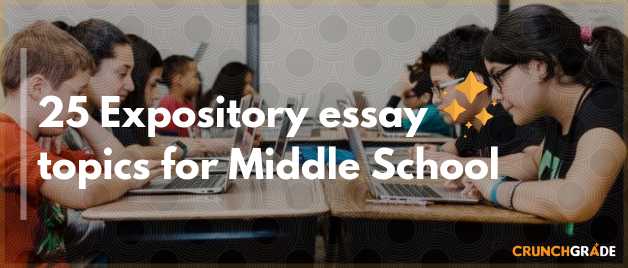 Expository Essays explain a particular topic in a detailed, logical and straightforward manner. These types of essays are completely informative. They do not include any references or any opinion of the writer. The tone of an expository essay is kept neutral. Hence, while writing an expository essay you will be expected to illustrate, define, explain or clarify the topic in a way that the readers can easily understand it completely. You may provide arguments, conduct an investigation or evaluate things in order to provide a clear explanation to your readers.
Essay writing is an art. It is an essential skill to have which is why you're going to require essay topics for Grade 7, 8, 9, and 10. You may have to do a lot of creative writing in middle school. Writing is a must-have school and these activities in school prepare you for it.
Types of Expository Essays
Descriptive Essay – describes a place, thing or an experience
Problem-Solution Essay – presents a problem and its solution
Cause-Effect Essay – finds the cause of something and its impact
Comparison Essay – compares and contrasts two things
Process Essay – explains a process
How to Choose a Topic for your Expository Essay?
The most difficult and important aspect of essay writing is choosing the 'right topic'. Many times students choose a difficult topic for which they need to conduct a lot of research which however makes essay writing difficult. Here are 4 quick tips on picking up the right topic –
Understand the purpose of writing the essay
Brainstorm some ideas and hence make an informed choice
Always conduct background research on the topic that you choose to understand its scope
Start with an outline first! Do not start writing straight away.
Expository Essay Samples
To help you get a better idea of what an expository essay is, consider the samples given below –
Topic: How Students can spend Their Leisure Time
Students have got a lot to handle! From attending classes to completing assignments, and participating in extracurricular activities, the small amount of leisure time that remains for them should be utilized in the best way possible. Students must choose their activities wisely as the way they spend their leisure time can reflect upon their physical and mental well-being.
Sports and Exercises
With most activities being sedentary nowadays, students should find some time to indulge in any kind of sports activity or a workout routine of their choice. Studies have shown that continuous sitting can lead to adverse effects on the health of students. Hence exercise and sports are good choices for students.
Developing Hobbies
Gardening, reading, writing, drawing, painting, or even cooking, there are numerous hobbies to choose from. Students should find some time for pursuing their hobbies, exploring new ones and enhancing their skills as a part of their leisure activity. No one knows when your hobby becomes your passion and hence gives a pathway to your success!
Time to Relax!
It is essential for us to learn to quiet our minds in this busy world. Hence students should develop a habit to relax and practice mindfulness every day. They can pick up any activity for this like meditation, yoga, listening to music, or even sitting with their family and friends. It is crucial for students to stay calm and find time, particularly for them for their mental and spiritual well-being.
These activities can help students take control of their lives. Picking up an activity that does not involve intellect, that is unlike school activities, can help students find a balance in their life. They can relax, play, grow and discover their true potential only through proper utilization of their leisure time.
Expository Essay Topics
Got a gist of how to write an expository essay? Let us have a look at some easy yet interesting expository essays that you can use –
Descriptive Essay
1. Describe your School
2. Describe your Pet
3. How Diversity can affect a Classroom?
4. Why do we Celebrate Christmas?
5. When you saw Snow for the first time
Problem-Solution Essay
1. Many students do not watch the news. How can this be a matter of concern for them? Are there any solutions to this issue?
2. Animal Abuse and Its Solutions
3. Global Warming and Its Solutions
4. What is Deforestation? Why is it a serious issue? How can this issue be solved?
5. How can we make our Community a Better Place?
Cause-Effect Essay
1. How air Pollution is affecting our Health?
2. Bullying in Schools – Causes and Effects
3. Peer Pressure and its Effects
4. Effects of Using Social Media
5. How Poverty affects urban and rural areas
Comparison Essay
1. Compare your two favourite sportspersons
2. Compare your current house to your dream home
3. Compare your two favourite TV shows
4. Watches – then and now!
5. Compare a place you visited recently with your city
Process Essay
1. How to Make Friends
2. How to Study
3. How to Take Care of your Dog
4. How to Fix a Table Fan
5. How to Write a Diary Entry
Conclusion
Got some inspiration to start with your own essay? So why delay? Start wiring your essay today itself. We hope that these topics would have given you a fair idea of what topic you can choose for your expository essay. Happy Writing!
If you need help in writing essays or in the preparation for NAPLAN, you can find online English tutors and online Math tutors on CrunchGrade.
Don't be shy! you don't have to make a decision right away. The first 30 Minutes are absolutely FREE!