10 Effective Study Techniques Students Can Follow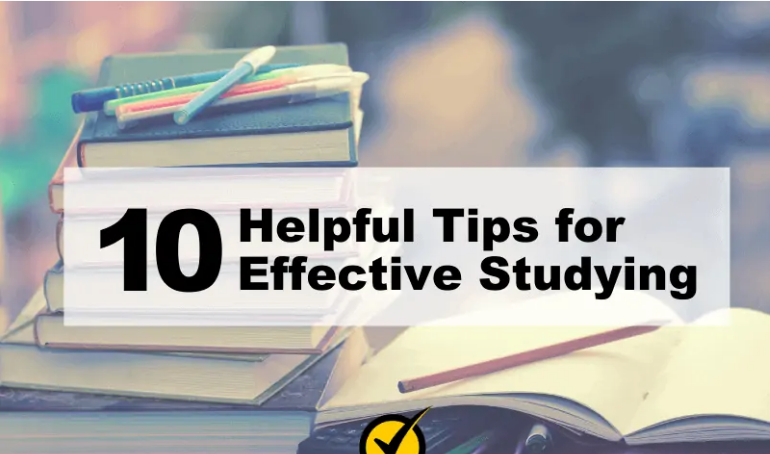 Education is an integral part of a civilized society. So, studying is very important and natural. However, to prove your standards, aptitude, and progress, you need to clear levels and pass important tests and examinations. So, unless you pass the tests, you are not qualified for the next levels. And you can pass every level only when you have studied well. 
But, some students struggle in their studies and fail; some even quit their studies when they find education or study beyond their capacity. Why does it happen‌? 
Is it because students or children who struggle, fail, or quit are dumb or are not talented at understanding their courses? Not always! Different students do have different levels of comprehension, but most of the time their level is influenced by circumstances. Rarely will you find a dumb student in a very well-equipped classroom with efficiently qualified teachers? And if you find one, then those students might have come under the wrong influences.  
So, we all know and understand that the right techniques of study are essential to keep students motivated and help them perform better. While we accept that education is important, it can be difficult to implement effective methods of study into practice. This is a common problem across the world among students, learners, and examinees. 
Here we will discuss some beneficial study techniques that can help you not only improve your foundation but also perform well on your tests and exams.
1. Create manageable sessions of study time
There is a major misconception that long hours of study can help you grasp more amount, of course, content. The fact is, this creates an obstacle in the minds of students, and they fail to retain all the information content they study. Therefore, create separate and manageable blocks of timing for your study, like, 20-30 minute sessions, so that your brain gets the necessary rest between the two sessions. It will help your mind retain and summarize what you study. 
2. Plan a fixed study schedule
Fix your study schedule. It will help your brain prepare to retain what you have learned or studied. Set specific times during the week for focused study. If you follow this specific study schedule, your brain will program itself accordingly and it will know you are ready for studies and will prepare it to receive information during this time.
Many students study right before they go to sleep and many study just after waking up from sleep. Follow what suits you best, and do not force yourself into a pattern that you are not prepared for. You will do good only when you follow the rules comfortably and not forcefully. But ensure that, you have a fixed study schedule and not jumping from one time to another. If late-night studying helps you study late at night, if early morning study helps you study early morning. 
3. Fix goals for your study sessions
Make sure you have fixed study goals for every study session. That is, you should know what you plan to complete or memorize or solve in a particular time duration, for example, in an hour, in a day or week. This way you keep challenging yourself and it can be very effective in helping you meet your course objectives. Also, set time to learn certain concepts that can help you improve your study. Give yourself time to relax. Go out and play, talk to your friends, and discuss your topics, and you can set goals for each of these activities. 
4. Connect your various study topics
Try to connect topics from different fields of study. You can also connect your topics to real-world scenarios. It can help you understand the concepts better. This will also help you memorize a few concepts better that you are unable to memorize. 
5. Use flashcards to recall what you have learned
While revising, many students have a habit of re-reading the entire chapter; some write notes and just read them, and there are some make flashcards. A common study habit for many is to repeatedly reread their notes and highlight ‌key points. It depends on what suits whom best. But the most effective technique is the use of flashcards. Why so? It is because when you re-read the entire chapter for revision, you are not challenging your brain to understand the concepts or solve the questions in your mind. When you use flashcards, you are compelling your brain to look for answers and learn in the process. In most cases, it helps in recalling the answer to your question. It also prepares you better for exams and tests.
6. Teaching others can be very beneficial
Another way to memorize and understand concepts better is to teach others the topics you are studying or learning. Discussing or explaining a topic aloud to others will improve your recalling ability and it will also help you understand the concepts better. You can do this with your friends or even your batchmates. You can also do it on your own with an imaginary audience. As long as you can explain what you have learned, it does not matter who is your audience. 
7. Practice sample questions
This is another good practice that you can include in your study plan. Practicing sample questions will prepare you for tests and exams. Practice test papers will give you an idea of how much you have understood a concept and where you need to improve. It also increases ‌confidence levels in taking exams on a particular topic or subject. You will find several practice test papers online these days for your purpose. 
8. Find an atmosphere that is productive for the study
The atmosphere in which you study is very important in increasing your productivity. Find a place for yourself that will help you concentrate better and will not distract you from your studies. Try to find a quiet space where you can sit alone and focus completely on your studies. It can be a peaceful corner in your own home, a library, a quiet cafe, your own room, or any place which will not distract you. A dedicated place for studying will help you concentrate better as soon as you reach that particular place as you will know that space is only for studies.
9. Avoid disturbing and loud music while studying
Music can be either encouraging or disturbing. Many forms of music are loud and can also be distracting. However, some classical music can help you concentrate better. So, avoid loud music that does not allow you to concentrate. But if you think music can help you concentrate, listen to light instrumental music. 
10. Keep your mobile phone away 
These days, mobile phones are a major thing of distraction, be it while studying or working. While social media and text messages have emerged as great mediums to communicate with family and friends, they can be a major obstacle for you when you try to concentrate on your studies. Set a timer on your phone and swear not to look at your phone till a set time. 
The above tips and techniques can be very beneficial for students in increasing their productivity if they follow them strictly. However, if you are still unable to focus on your studies and failing to improve your productivity, you can hire an online tutor for your studies who will help you fix your study goals and also increase your productivity effectively.
Find the best tutors online from all across Australia – Sydney, Melbourne, Adelaide, Perth, Newcastle, Goldcoast, Canberra, Brisbane.
To make it easier for you to decide, your first session is completely FREE!
Select and book an online Math tutor, Science Tutor, English Tutor and all the other subjects.