Everything about NAPLAN – Eligibility, Exam Pattern & Preparation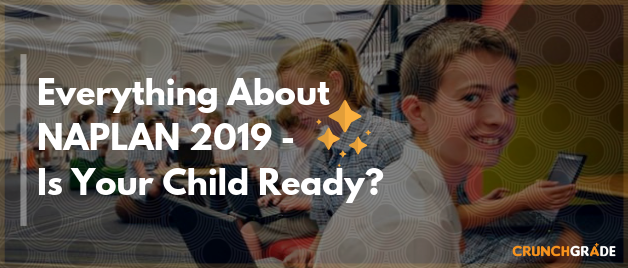 What is NAPLAN?
NAPLAN stands for National Assessment Program for Literacy and Numeracy in Australia. It is a test conducted every year in May for students of grades 3, 5, 7 and 9 at the national level to assess their reading, writing and numeracy skills. The objective of this test is –
1. The schools can measure the student's performance against the national standards giving them an insight into how their teaching programs are working. Therefore, it allows the schools to improve the teaching and learning standards.
2. The students get a chance to reflect on their abilities and hence can find their strengths and weaknesses in basic numeracy and literacy skills
The Pattern of the NAPLAN Test
The NAPLAN 2019 test shall be held in the month of May. There are a total of 4 tests for students of all levels as given in the following table –
| Year of School | Language | Writing | Reading | Numeracy |
| --- | --- | --- | --- | --- |
| Year 3 | 40 Minutes | 40 Minutes | 45 Minutes | 45 Minutes |
| Year 5 | 40 Minutes | 40 Minutes | 50 Minutes | 50 Minutes |
| Year 7 | 45 Minutes | 40 Minutes | 65 Minutes | 60 Minutes |
| Year 9 | 45 Minutes | 40 Minutes | 65 Minutes | 60 Minutes |
Generally, the writing and language conventions exams take place on the same day while reading and numeracy tests are conducted on separate days. The NAPLAN test does not assess how well the student understands the curriculum. It rather focuses on their general ability to do Math or read and write. Hence, it gives a snapshot of what overall skills a student has gained in school. However, the test is structured keeping in mind the curriculum and scope of the students of different educational levels. For all the tests except the writing one, there are generally multiple-choice questions or short written responses. In the writing test, the students are asked to present a continuous piece of text.
The NAPLAN Writing test
The main aim of NAPLAN writing is to assess the ability of a student about writing a paragraph. Students are generally given a topic either persuasive or narrative in nature and then they have to present a piece of writing on that topic. The assessors of the test evaluate the writing of the student on the basis of its logical structure, grammar, vocabulary, spelling, punctuation and sentence structure.
The NAPLAN Language Convention Test
The assessment test for language conventions aims to evaluate how precise the student is in things like grammar, punctuation, and spellings.
The NAPLAN Reading Test
The aim of NAPLAN reading is to evaluate how well a student can read and hence comprehend a particular text. Students are provided with different types of texts such as articles from magazines and newspapers, stories and essays followed by certain questions regarding that text.
The NAPLAN Numeracy Test
This test aims to evaluate how accurately the students can solve the problems of algebra, statistics, geometry, probability, and measurement. The NAPLAN math test is set keeping in mind the school curriculum of the students.
How to prepare your child for the NAPLAN
NAPLAN is considered a generalized exam for students having different levels of understanding so starting to prepare for the test a week before is not going to bring any major change in the scores. However, making children aware of the test format, and the types of questions and preparing them for it with time can be helpful. Here are some tips on how parents and teachers can incorporate NAPLAN preparation into students' everyday schedules –
1. Parents can give regular NAPLAN reading comprehension practice to their children by engaging them in reading activities. Also, they can ask them to explain the text in their own words.
2. Just like reading, writing is also something that cannot be learned within a week. Hence students should be encouraged to write a paragraph daily on various topics. Parents and teachers can brainstorm new ideas on NAPLAN persuasive writing topics with them and provide feedback on their writing to help them improve.
3. Solving Math questions should always be a part of the students' study routine at home. A great way to keep with NAPLAN math practice is by incorporating it into their real life. So, parents should ask their child questions related to money, time and measurement in different situations like buying groceries, cooking meals and so on.
4. Students may also solve some sample test papers before the actual test so that they can match up with the time requirements and the format of the test. They should be familiar with the strategies of solving multiple-choice questions and writing short answers along with other important techniques of NAPLAN numeracy to take over this exam.
5. Parents and teachers should try to cope up with the anxieties of students about the test and help them in creating a study schedule that would make them feel confident about giving the test. Nowadays, parents can engage their children in NAPLAN online preparation where they will get the right guidance about the test from expert tutors from their homes.
LOOKING FOR A NAPLAN TUTOR?
You can book an online tutor for Math and, English at CrunchGrade. Tutors are available 24/7.
Give your child the NAPLAN Exam help they deserve for a bright future.
You can try it for FREE!