How can a tutor help you prepare for the NAPLAN Test?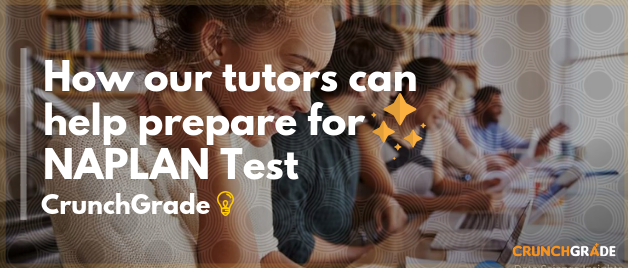 "Education is not only about the past and present, but it is also the key to the future. It will help discipline our children for the intellectual challenges of the rest of the 21st century" – Unknown
The month of May is a crucial time for students in Australia. Students who are in years 3, 5, 7 and 9 have to sit for the NAPLAN test. The NAPLAN stands for National Assessment Program – Literacy and Numeracy and it is an annual test in Australia which helps to understand the learning progress of a student. This test compromises of different sections and measures the capability of the student on the basis of reading, writing, spelling, grammar and numeracy skills.
It is one of the most important tests which is designed to examine the high-order problem solving capabilities of a student which has a purpose of knowing that educational foundations and schools are giving proper attention to the students so that they have an excellent learning capacities and can show up to be an asset for the Nation when they grow up. This test is not about getting a pass or fail, it only tells about students who need extra attention from the school.
Why it becomes important to hire a tutor for NAPLAN test preparation?
As we know how essential the NAPLAN test is for the students who are in years 3,5,7 and 9 it can be sometimes important to check whether your child is prepared to give the NAPLAN test or not. There can be many parents who are working and are not able to properly check whether their child is prepared for the test or not.
Sometimes students are not able to learn everything in school. There are numerous students studying in a class therefore, it becomes difficult for a teacher to pay special attention to every student. This makes a student unaware of many scenarios and even their basic concepts are not cleared.
The early years of student life are very crucial because creating a strong base of education is vital. If a student is not able to learn things at an early age, it becomes difficult for the student to cope up with other students in higher classes. Some students may also choose to prepare for NSW Opportunity Class(OC) Test, IB(International Barraceulate(IB) Test. You'll have to make a wise decision to decide which test would be most beneficial.
All these reasons bring the need of a tutor for students who have to sit for the NAPLAN test so that tutors will help them prepare for the test appropriately.
Now, you know whether your child needs a NAPLAN tutor or not. But "How can a tutor help you prepare for the NAPLAN test?" is the big question coming to your mind. To solve this confusion, here are the major ways in which a tutor can help a student prepare for NAPLAN test:
How a NAPLAN Tutor can help
Practice makes a man perfect
Yes, this is one of the most important reasons. A NAPLAN tutor can help the student solve practice tests of NAPLAN. This can give students a gist about the real test and students can feel confident at that time. The time a student will sit for the test and the question paper will come in front, the student will be aware of the formatting and how to solve the test.
The tutor teaches how to use the time wisely
Time management can be a big issue, especially for younger students who are not aware of how to manage time when they are solving the test paper. This brings to an outcome where the student is not able to complete the whole test paper and it believed that the student is a slow learner. The NAPLAN tutor in such case can guide a student on time management so that the student is able to submit the complete test. The tutor teaches how to attempt the questions and which questions will be solved first. The practice with the sample test can help students know about the utilization of time. Proper time devotion to each section in NAPLAN is an art and student learn time management at an early stage of life, which helps them to in higher classes.
Teachers guide students to solve test papers in general and not only in NAPLAN
According to NAPLAN test providers, last year the saw a drop-down in the marks students scored in the writing section. This was not because the students were not aware of writing tasks or they didn't attempt the section. The reason was, students were guided by schools to write only one kind of essay. This made the students confused when they saw something different in the writing section and they lost marks. In such scenarios, tutors help the students to understand writing in general. This means that students should emphasis more on learning how to write, rather than learning the topics.
Builds confidence and removes stress
The NAPLAN test is for the students who are in years 3, 5, 7 and 9 therefore, this is a learning age. The student should never face any kind of stress which will make them feel depressed. Learning should be fun and getting educated should be joyful for them. If a student is not able to score well in the NAPLAN test and sees that his/her classmate has done better. This can make them feel complex and lack of self-esteem. Here, tutors play an important role to guide students about life and make their life happening. They teach them the value of education and how to tackle various situations in life.
CONCLUSION
NAPLAN is an important test and now you know the importance of tutors in guiding students for the NAPLAN test. So now, without giving a second thought you can understand how a NAPLAN tutor helps in shaping the life of a student. Believe in the needs of your child because your child is an asset to the nation who is going to help the nation grow. The individual attention paid by the tutors can help your child grow.
For one-on-one tutoring, you can find tutors on the best online learning platforms. One such popular platform to find subject matter experts for English & Maths in Australia is CrunchGrade. You can book a FREE 30 Minutes Session with a tutor!