Everything About IB(International Baccalaureate) – Eligibility, Curriculum, Preparation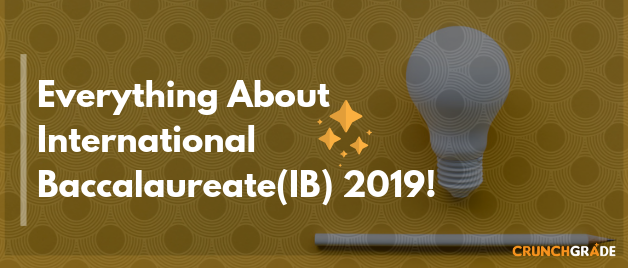 What is the International Baccalaureate(IB)?
The International Baccalaureate or IB offers high-quality education to students from ages 3 to 19, enabling them to think independently, logically and critically. There are four programs catering to students of different ages namely Primary Year Programme, Middle Years Programme, Diploma Programme, and Career-Related Programme. The IB Diploma Programme is a two years course taken in the last two years of high school by students so that they can apply to a university for higher studies.
What is the IB Curriculum?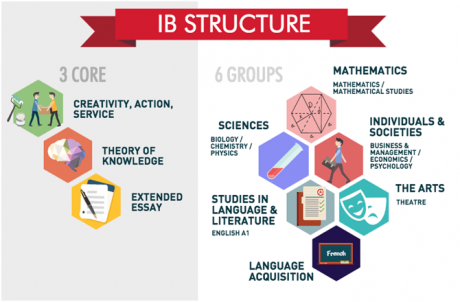 The IB Diploma Programme comprises 6 subjects/ courses/ groups as shown in the table below. Out of the 6 courses students have to take up 6 different subjects (3-4 higher level (HL) subjects and a minimum of 3 standard level subjects (SL)).
Group 1

Studies in Language and Literature

Group 2

Language Acquisition

Group 3

Individuals & Societies

Language A: literature (SL/HL)

Language A: language and literature (SL/HL)

Literature and performance (SL)

Language ab initio (SL) 

Language B (SL and HL) 

Classical Languages

Business Management 

Economics

Geography

Global politics

History

Information Technology in a global society

Philosophy

Psychology

Social and Cultural Anthropology

World religions (SL only)
Group 4

Experimental Sciences

Group 5

Mathematics & Computer Science

Group 6

The Arts

Biology

Computer Science

Chemistry

Design Technology

Physics

Sports, Exercise and Health Science

Mathematical studies standard level

Mathematics SL

Mathematics higher level

Further

Mathematics higher level

Dance

Music

Film

Theatre

Visual arts
Along with the 6 subjects, there are 3 core components of the IB curriculum that the students have to complete independently. However, there will be supervisors to guide them.

1. Theory of Knowledge (TOK) – students have to question their knowledge, assumptions, and biases regarding the world. It allows them to think deeply about the basic things in life and examine critically. Students have to give a presentation and an essay of around 1600 words during the assessment of this component.

2. Creativity, Activity, Service (CAS) – this component is all about teaching the life skills to the students. They have to perform the activities related to arts and sports and provide a voluntary service. it is not assessed formally however, students have to demonstrate and provide evidence of achieving the outcomes of the CAS.  

3. Extended Essay (EE) – students have to conduct independent research and write a paper of around 4000 words.

Before you begin your preparations just make sure you know the syllabus thoroughly. You must have covered every aspect of the IB program subjects because there can be questions from any topic. Hence, not only in the beginning but keep your subject syllabus with you every time you study. You may even color code the syllabus to mark the topics you understand completely, partially or not at all. Then, accordingly, you can allocate time to each of the topics.

ALSO READ: ATAR Details 2019 – Know Eligibility, Courses, Calculation
IB Assessment Process
The IB exams are generally held in the month of May. For 2019, the exams are scheduled from May 1, 2019, to May 24, 2019. The evaluation of IB exams is divided into two parts – internal assessment and external assessment.

Internal Assessment – it is conducted by the teachers where they assess a student's performance based on their laboratory work, presentations, and written work. Additionally, a moderator is appointed by IB who accounts for 5% of the internal assessments.

External Assessment – the external assessments are carried out through traditional exams involving extended response questions, multiple choice questions, short answer questions, and data analyses questions. These papers are graded by independent examiners.
Examples of tasks that are sent directly to examiners to be marked are:

Tasks that are marked by teachers and moderated by examiners can include:
Within each component there is a variety of assessment tasks, which may include:
Examinations (including on-screen)

Extended Essays

Written Assignments/written tasks

Theory of Knowledge essays

Oral Work in Languages

Fieldwork in Geography

Exploration in the Sciences

Investigations in Math

Artistic Performances

Portfolios/E-Portfolios

Projects

Multiple-choice Questions

Short-response Questions

Extended-response Questions

Essays

Presentations

Performances
Know the Marking Scheme of IB
For each subject, students are given a score out of 7. There are additional 3 points for completing TOK and EE elements which makes it to a total of 45 points.  Students are required to achieve 24 marks out of 45 in order to qualify the IB exams. However, if you want to get into a top university, you must score more than 24 points.  
If your aim is to achieve a grade 7 in your IB Test then start attempting questions in a timed environment and then see if your answers are in accordance with the marking scheme. You can find the exact marking scheme from your school. In this way, you can learn how to exactly attempt questions in the exam without worrying how much you need to write.
IB exam Preparation
Manage your Time Wisely
During your IB exam preparation, time management is a crucial aspect. Consider your study plan as motivation and follow it to achieve your daily study goals. Make a list of difficult topics for each subject and then divide these topics into sub-topics and set your study goals on a monthly, weekly or daily basis.
Refer to your color-coded syllabus and analyze how much time you need to study each subject based on your IB exam schedule. Being organized will help you achieve your goals without being stressed or anxious about them. For instance, if you have 6 weeks left, start dividing the study material and make a plan for how much syllabus you will be covering every week.
You can also create weekly schedules planning how much you will study per day. Divide your subjects depending upon their difficulty levels and time requirements. After every week, do a weekly review in which you will assess how many goals you actually achieved, what did you leave or whether you perfectly managed to study as per your schedule. Keep Sunday evenings for planning your next week's study schedules.
Once you will start following your study plan it will boost you further to study regularly. Whenever you find yourself procrastinating remind yourself of your goals. However, do not beat yourself up and do keep some time to relax and re-energize yourself.
Practice and Practice
If you want to assess how well you have studied a topic, giving a mock test is a good idea. Solving previous years IB papers will give you a better insight into how you need to perform in your actual examination. The IB curriculum is quite standardized. So make sure you allocate time to practice as many tests as you can. In this way, you can get familiar with the exam pattern and would not lose track of time in actual examination.
Eliminate Distractions
Preparing for IB English Exam can be difficult when your phone notifications keep disturbing you. Your study environment plays a major role in effective learning. So make sure that there is nothing to distract you while you study such as a TV or mobile phone. Use website blockers to stop yourself from unnecessary dwelling on YouTube or other social media networks. Of course, you can treat yourself with all these once you finish studying your daily target.
Find help in IB Exam Preparation
There might be certain subjects that seem tough to you. For instance, if you think you need help in IB Biology Exam, find a dedicated online tutor for biology. They will help you prepare effectively for your test by identifying your mistakes and giving you the correct feedback. You can discuss all your subject queries with them and hence score well.
Last, but not least, trust your capabilities! You may learn the strategies for solving tricky math problems or understand that typical science topic from the internet but in the end, it is your hard work that is going to make you win. Students often panic before the exams and commit mistakes. But instead of exhausting yourself, trust your abilities. Believe that you are going to make it and the fact that you have studied hard and see yourself aligning with your goals.
CrunchGrade is an online tutoring platform that provides online tutoring for NAPLAN 2019, ATAR 2019, and many more examinations.
FIRST 30 Minutes FREE!