The Ultimate Time Management Tips for Perfect Grades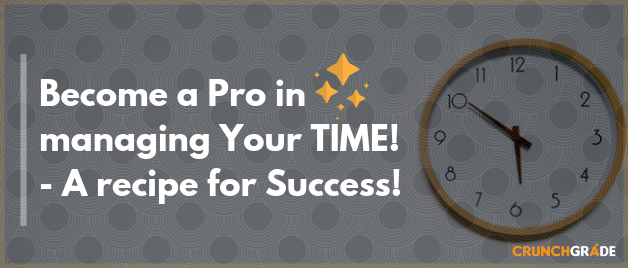 So, you want to be a Grade A student? It means that you are ambitious and you are willing to work your way up the hard way – and that's a positive sign. Ultimately, it's your determination, time management skills and, hard work that only matters when it comes to achieving success in fulfilling all your dreams.
The bad news is time flies, the good news is you're the pilot.
Here, we will give you a leg up by proposing tried & tested tips to help you with managing your time well and glide all your way to those every-eluding perfect grades in a super-efficient manner. You'll notice that not all the suggestions we give here are related to studies. Many of them are about maintaining a personal discipline, remaining fit, and being happy. After all, success only matters when you can enjoy it. So, here is what we advise:
Tweak the Study Schedule according to your daily routine.
The object of time management is not to live on the same schedule but finding what works best for you. Don't hesitate to tweak your life here and there. Experiment until you get it right.
Everyone has a best study-work time period – where his or her performance is at its peak. Since, in Australia, the school timings usually range from 9 am to 3:30 pm, we expect you have a schedule that starts from 8 am. However, you might want to tweak your schedule according to your preferences to improve your study skills.
You might want to add a study session around 6-7 am or 9-10 pm after dinner. An extra session of personal studies can help you in the long run. Extra effort never killed anybody! If you're a night owl, a one-hour study session around 10-11 pm also works (if you like to study at night). Decide what your peak hours of study are and adjust your days accordingly.
Sleep is a crucial aspect of ideal student life.
Even Thor needs to sleep! Zzz…
An average person needs 7-8 hours of sleep to function effectively. You may want to all the 24 hours to the time-table given above and color the number of hours when you'll sleep. You may also want to include an hour of nap time in the afternoon after returning from school. The purpose of time management is to enjoy your life to the fullest while also accomplishing your goals and targets. It also helps in beating procrastination.
Try to stick to your bedtime or wake-up time according to your particular habits – and if you feel that you are too tired when you wake up or you are up before your wake-up time, you can adjust your sleep hours in the next week's routine. Remember there are no hard and fast rules. Make changes until you find what works best for you!
Personal grooming and breakfast are important.
Mind. Body. Soul. You might have heard that body fitness and mental fitness are connected. So, reserve some time for brushing your teeth, exercising, bathing, dressing up, and having a healthy breakfast and some snacks in the evening.
Breakfast is for champions.
Healthy diet and exercise keep you fit and personal grooming and dressing up keeps you happy and relaxed. If you stay in bed all day with books strewn all around, you will feel more stressed and achieve less.
The advantage of time management is that it also makes you look good. Sleep. Exercise. Repeat.
So, get up, freshen up, grab a bottle of juice, and go for the walk.
Some habits are forever.
Some habits die hard. But, don't be upset, habits are like muscles. New habits can be created by creating new actions which have to be repeated for a certain amount of days.
Memories play a vital role in carving out our personalities. Not all habits are bad. The objective of time management is not to turn yourself into a robot. In fact, continuing some of the habits you adopted as a child can help you feel connected to your family even if you are thousands of miles away. You may want to keep the meal times when you ate with your family or perhaps, mark the time when you all prayed together. Saying your prayers at the same time or eating at the same time may make you less homesick.
Mark the hours for all the must-do activities of the day.
It's understandable that routine can often get boring. But let's face it we can't travel from A to B in the blink of an eye(yet). So, don't stress about the time lost for doing that's necessary.
It makes sense to block off all hours when you are traveling to and from your school or college, attending classes, taking extra classes, practicing sports or music and/or doing a part-time job – basically anything that you have to do on a regular basis.
Mark the hours for self-study.
Now that you are done with all the key activities of the day, it's time to mark the hours you will study each day. For perfect grades, you need to balance all your subjects – no matter which ones you like and which ones you hate.
If you are in high school you need to study each subject for at least 4-6 hours per subject every week while at the college level, you have to study each subject for at least 6-8 hours per week. It means that if you are studying four subjects in high school, you need to study at least 16-24 hours per week while in college; you need to study at least 24-42 hours every week.
Self-study is the time when the magic happens to your grades. Do it wisely!
Remember, don't get bogged down with long hours of study sessions instead work on your concentration skills which will help you do more in less time!
It means that if you are in high school, you need to study for at least three to four hours per day. Suppose your school timings are from 9 am to 3:30 pm, you may want to squeeze in one hour of study from 7 am to 8 am in the morning and three hours of study in the evening from 5 pm to 8 pm. To manage it, you may have to give up some of the activities you indulge in – such as social media or sports. The idea is that if you need to study more, you might have to sacrifice some of the comfort or other activities you love.
Write down topics to complete every day of the week.
If you know what all you need to accomplish every day, you'll be able to do more in less time. It's a little psychological trick!
This is micromanagement. Write down all the topics you'll cover, all the assignments you'll do, and what all you need to revise every day of the week. At the end of the day, how much you have accomplished. If you are lagging behind for some reason, try to catch up the next day.
At the end of the week, check how well you have done in following your study plan. If you have done less every day of the week, you may consider setting up smaller (more manageable) goals for the next week.
If you don't feel like learning something new, use the time to revise the studied material.
But once something goes into your study plan, promise to finish it up in time. This is the only way to improve your academic performance and become a topper in the due course of time.
CONCLUSION
Keep your eyes on the reward and it'll all become easier for you.
There is no denying that time management for students is necessary for a successful academic life. Some subjects like Math and Science demand daily practice and sometimes require extra help. Don't be shy to ask for help and trying new options. Online tutoring could be better for you than traditional learning. You can choose online tutoring services such as CrunchGrade which can help you find a tutor. With online tutoring, you can study whenever you want, wherever you want. So, allot at least one hour a day for Math and one hour for Science with an online tutor. 
You can try it for FREE!