Top Australian Schools for Primary, Secondary and High School Students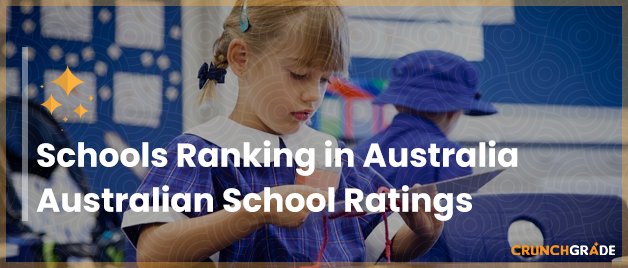 The Australian education system has set its class apart because of its innovative curriculum and teaching patterns. Find more information about the top schools in Australia and the education system in this guide.
Schools Ranking in Australia
School education in Australia is similar across all the states and territories except for a few minor changes. According to Study Australia, managed by the Australian Trade and Investment Commission, school education in Australia spans up to 13 years starting from Kindergarten or preparatory schools.
Primary school– Runs for seven or eight years, starting at Kindergarten/Preparatory through to Year 6 or 7.
Secondary school – Runs for three or four years, from Years 7 to 10 or 8 to 10.
Senior Secondary or High school – Runs for two years, Years 11 and 12.
The Australian education system has set its class apart because of its innovative curriculum and teaching patterns. Many parents and students consider school rankings to find the best schools around them. School rankings give them an idea of the quality of education given in a particular school so that they can apply to the best possible schools. Let us take a closer look at the Australian education system.
Also, Read – How to Improve Teacher-Parent Communication? Tips from Experts
Australia's Educational System
From the age of six to fifteen, children in Australia are required to attend school. Children first attend preschool or kindergarten facilities before enrolling in main schools.
Although most parents want to provide preparatory education for their children before they attend primary school at the age of six, this is an optional step. Primary school is 6 or 7 years long. Some Australian schools provide a curriculum that serves as a bridge to secondary education.
Students attend middle school from Grade 5 or Grade 6 to Year 10, after which they go to secondary school for their final years. After finishing elementary schooling, children go on to secondary school or high school.
Students receive a diploma upon completion of secondary school and can pursue a degree at a university, enrol in a technical school, or seek work.
The Australian government is always working to strengthen the country's educational system. Most Top High schools in Australia in 2021 have excellent facilities, teachers, and programs. Furthermore, Australian schools are noted for their inventive approach. Technological innovations are embraced by the best schools in Australia, resulting in more effective pedagogies. Australia is recognized for discovering important technology and medical treatments such as penicillin and the cervical cancer vaccine. It is regarded as one of the most livable countries on the planet. Most of its main cities are likewise considered to be among the world's most livable. Despite their tiny numbers, Australians are among the world's nicest people. Australia has a high level of life, as seen by its well-functioning transportation, social services, healthcare, and education systems.
You May Also Like – The Role of Language in Education: How Your Linguistic Skills Boost Your Academic Achievements?
Facts about Australian Schools That All Parents and Students Must Know
High school ranking in Australia must adhere to government-mandated infrastructure and faculty registration standards.
In Australia, class sizes are regulated to a maximum of 30 pupils per class, and all students are required to take a literacy examination every two years as part of the national Literacy For All program.
For pupils with superior knowledge and talents, there are gifted and talented programs.
School types in Australia include public or state schools, private schools, special education schools, religious schools, and philosophy-based schools are all types of schools in Australia.
The Australian Department of Education subsidies and manages public schools. Although a minority of high schools are classified as boarding schools, the majority of public schools in Australia are co-educational day schools.
Private schools in Australia receive limited government funding but typically rely on school fees for the majority of their operating costs.
Day schools and boarding schools are the two types of private schools.
School costs in private schools range from $2,000 to $13,000 per year per kid.
In Australia, the majority of private schools are run by Catholic institutions. A normal school day begins at 8:00 or 9:00 a.m. and ends at 3:00 or 4:00 p.m. Australian schools begin in January and end in December.
Why should schools be ranked?
Australia is known for its education system. Yet most parents and students consider school rankings. It is important because it helps in understanding which school performs the best when it comes to a sense of security, good health, and a good education.
There can be many reasons why a student chooses a school. It could be proximity to home. It might be a family tradition. It might be a recommendation. When you have school rankings in front of you, it becomes easier to gauge the schools based on other important factors.
The ranking is also a motivation for schools to provide a better learning environment to the students and to improve the quality of their education. Most parents invest heavily in their child's education. They want educational institutions to provide the best facilities and learning environment to the students. This is why they prefer checking the rankings of schools.
Also, Read – Best Prospective Online Tutoring Websites
How are schools ranked in Australia?
School Rankings based on academic Results: In this ranking method schools are ranked according to their academic results. For Years 11 and 12, senior secondary schools are ranked according to ATAR, VCE, HSC, QCE, WACE, SACE, NTCET or TCE results. Secondary and primary schools are also ranked based on their average results.
School Rankings based on alumni mentioned in Who's Who in Australia: Sun-Herald ranked Australian schools as the top ten boys' and girls' schools based on their alumni mentioned in Who's Who in Australia.
School Rankings based on alumni recognition: Another ranking method is adopted to find the Nation's top high schools, based on the number of their alumni who received the top order of Australia honours – Companion of the Order (AC) between 1975 and 2010.
List of Top Schools in Australia
Atwell Primary School, City of Cockburn
Dandenong Ranges Steiner School, Primary Campus, Melbourne
Doreen Primary School, Melbourne
Tooradin Primary School, Melbourne
Lowanna Public School, City of Coffs Harbour
Aspect South East Sydney School, Hurstville City Council
Buxton Public School, Wollondilly Shire Council
Son Centre Christian College, Swan Hill Rural City
Forrestdale Primary School, Perth
Forestville Public School, Northern Beaches Council
Taranganba State School, Livingstone Shire
Ipswich Adventist School, City of Ipswich
South Kalgoorlie Primary School, City of Kalgoorlie-Boulder
Arranounbai School, Northern Beaches Council
Melbourne Girls Grammar – Morris Hall Campus, Melbourne
New Farm State School, Brisbane City
Wingello Public School, Wingecarribee Shire Council
Bobs Farm Public School, Port Stephens Council
Carey Baptist College Forrestdale, Perth
Heathridge Primary School, City of Joondalup
How CrunchGrade can Help you with Your Schooling?
CrunchGrade is an online learning platform that builds a bridge between top online tutors in Australia and students willing to seek help in their studies. Studying in a top Australian primary/secondary school not only sounds prestigious but is a matter of big responsibility. You not only have to live up to the expectations of your parents but your teachers and school as well. It requires double the amount of hard work and effort to win better grades in a school that provides you with the best of everything.
At CrunchGrade, we have tutors for all primary and secondary school subjects like Science, Maths, English, Computer Science, Geography, History, Programming and so on. These tutors have the best educational qualifications with years of teaching experience. Most of them have gained their education from the top schools in Australia. They will help you achieve your academic goals easily and make it possible for you to cope with your schooling.
Here's what we offer to our primary and secondary students in online tutoring:
Personalised learning environment – We provide an environment that caters to the students' academic growth. The learning programs designed for every student are based on their learning needs, level of understanding, and conceptual clarity.
Qualified expert tutors – We select our tutors based on their passion and love for teaching students. Our teachers are not just your private tutors but your mentors who are going to guide you throughout your academic journey.
1-on-1 learning – Studying in a class full of students sometimes hinders the growth of the student. Having a personal tutor by your side makes it easier for students to understand the concepts, ask their doubts and solve their queries.
Interactive classes – We enable students to participate in classes actively. Our live sessions include features like live chat, face to face discussions and file sharing that enable students to be a part of the learning process rather than just sitting behind their desktops and listening to lectures.
There's a lot more to discover in CrunchGrade online school tutoring:
Detailed study reports
Study materials and resources
Learning at your own pace
Flexible timings
Affordable online tutoring
Tailor-made courses and much more!
Find best tutors from all across the Australia – Sydney, Melbourne, Adelaide, Perth, Newcastle, Goldcoast, Canberra, Brisbane.
To make it easier for you to decide, your first session is completely FREE!
Select and book a tutor for Math, Science, English and all the other subjects.