5 Simple Tricks Parents Use To Ease Their Kid's Maths Anxiety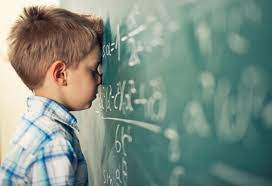 Mathematics is not just a subject but a necessary skill for life. It is not just learning algebra or trigonometry, but gaining some important problem-solving skills that can help us throughout our lives.
However, many children are afraid of Maths, and by afraid, we mean:
They refuse to study Maths every day, or
They practice a lot but still are unable to score good marks, or
They simply hate Maths!
But, is Maths anxiety actually a thing…
Yes, it has been seen that students often get nervous or get "blank" when their Maths teacher asks them to solve a problem. Sometimes these students are unable to solve their Maths homework on their own. If your kid is also experiencing something like this, then they are definitely facing Maths anxiety.
Like many parents, you might wonder why "anxiety" has anything to do with Maths. But, research has shown that it is an alarming issue in students and should be taken seriously.
Some common symptoms and companions of Maths anxiety are:
Feeling nervous when anticipating or participating in maths learning
Having poor maths confidence
Maths disengagement
Some valuing of maths
Maths anxiety is generally caused by:
Enduring, negative beliefs and thinking patterns around math potential
Influenced by experiences struggling with maths and by parents, teachers, peers and society
As a result, a student might start performing poorly in Maths. They might even refuse to study Maths at all!
5 simple tricks to ease your child's Maths anxiety
Now that we know that Maths anxiety is a problem. It is time to find its solution. If parents work together with their kids, they can help them be friends with Mathematics and vanish away these anxiety issues. Let us see how.
1. Make sure your child has strong conceptual knowledge
Whether they are starting with something basic like decimals or whether they are struggling with advanced concepts like trigonometry. If you want to ensure that your child no longer feels anxious about solving a Maths problem, make sure that they understand the concepts well. This can be done in two ways:
#1 You sit with them after school and revise what they studied in Maths together. You might ask them to solve a problem and make them explain to you how they solved the problem.
#2 You can hire an online math tutor to help your child revise the topics they study in class and practice questions so that the concepts are crystal clear. The tutor can also reiterate the concepts taught in class.
Also, read – 5 Reasons Why Secondary School Students Should Opt For Online Maths Classes
2. Teach them how to think while solving a Maths problem
Most of the students who are afraid of Maths do not know how to think while solving a Maths problem. In general, when a student reads a Maths problem, they immediately start thinking about which formula to apply. If they know the formula, their confidence rises and they quickly solve the question. But when they do not know the formula, their confidence decreases and they think that they will never be able to solve the problem.
We need to teach kids how to think and solve problems when they do not know which formula will be applicable to the question. Here's how you can do it. Build a strategy on how to solve the Maths question paper/tests at school. This includes which questions to attempt first, what to do when you do not know how to solve a problem and how to revise your calculations.
3. Connect Mathematics with real-life situations
That should be the first thing to do, actually! It becomes easier to understand a concept when you know how that concept is being used in our daily lives. For example, teaching your kids about fractions by dividing a pizza amongst the family or asking them to do simple calculations while shopping for groceries. Of course, as they will study more advanced concepts like probability or statistics, they will need better real-life examples.
Connecting Mathematics with real-life situations will benefit the children in many ways:
It provides students with meaning and context for their learning.
It will be easier for students to visualise a Maths problem.
It will give them more confidence as they will never forget the concept.
4. Develop a growth mindset for Maths
Now comes the psychological actions that parents can take to ease their kid's Maths anxiety. In other words, you have to try and develop a healthy, positive mindset of your kids when it comes to Maths. As we discussed above, Maths anxiety in kids is often influenced by experiences of their parents or siblings struggling with Maths. So we need to change the wind here.
Start talking positively about Maths – So instead of saying that "I don't like Maths either." Start saying that "everyone can do it. It's okay if you are finding it hard. You can always improve by practising." Similarly, do not let your child think that if they failed in Maths, they failed in life.
Ask them to learn from their mistakes – Making a mistake in Maths does not mean that you just failed and you can never learn Maths again. Mistakes are made to learn from and we need to make our children aware of that.
Paise their actions – Your child might not receive an A right after C. The road to success might be different for every student. So make sure that you praise their efforts. Even if your child moves from C to a B, praise them. They have made a huge difference.
Also, read – How To Choose The Best Online Maths Teacher For Students In Secondary School?
5. Be there for your child
The last piece of advice that we would like to share with the parents who want to ease their child's Maths anxiety is to be with your child in their journey. When you sit with your child while they study Maths or do their homework, you will get a better idea of what causes the anxiety. Is it their limiting beliefs or their lack of understanding? Once you know where the problem is, you can easily find a solution for that.
You can also hire a personal tutor for your child at CrunchGrade. We have the best Maths tutors from Australia. You can select a suitable tutor based on the grade of your child and start their learning journey right away. You can stay as involved in your child's learning as you like and help them win over Maths anxiety.
One thing that you must never forget is that every child is different and so are their learning styles. You cannot expect what works best for someone will work the same for your kid too. This is why your personal involvement in your child's learning is important. Only you can understand what problems your child is having in Mathematics and then you can devise a learning plan for them. If required, you can seek help from an online tutor or your child's school teacher and work things out.
These are just a few tips on how to reduce Maths anxiety in kids. Check out our blog for more such tips and help your child thrive at school. If you used any of our tricks and it helped in reducing your child's Maths anxiety, do write to us and share your story.
Find the best tutors online from all across Australia – Sydney, Melbourne, Adelaide, Perth, Newcastle, Goldcoast, Canberra, Brisbane.
To make it easier for you to decide, your first session is completely FREE!
Select and book an online Math tutor, Science Tutor, English Tutor and all the other subjects.