10 Best Math Tutoring Websites that will Make it Big in 2019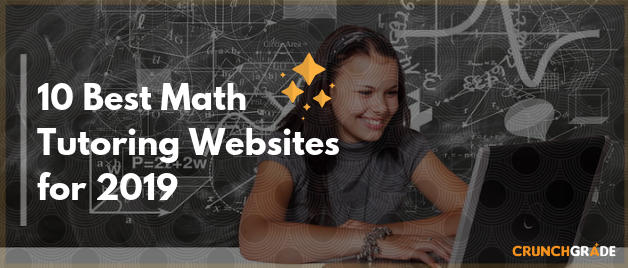 Let's face it. Most students find Math difficult. Many students struggle with the fact that math expertise is something that does not come intuitively. In fact, acquiring Math skills is more like working with building blocks where you first build your foundation with basic rules of addition and subtraction and then, go on to learn formulas, operations, and concepts that become increasingly difficult with time. It takes patience and persistence to master the subject.
There are many online learning sites for students which help them to learn Math easily and in an interesting manner. Here are the 10 best online Math tutoring websites in 2019 we have compiled just for you:
Math.com is a top online tutoring math website that combines sound education and modern proprietary technology to offer a unique experience to learners. A subsidiary of Leap of Financial Services Inc., it is expected to do better in 2019 as it offers quality tutoring services. Math tutors on this platform have a strong formal background in mathematics. High school diploma is the least eligibility criteria for tutors who teach Math to younger children while an undergraduate degree with an emphasis on mathematics is mandatory for online tutors who teach Math to high school students and above.
Besides 24/7 online tutoring services, it also offers cool tools to help students explore and enjoy key math concepts easily. Math.com also has a rich library that includes dictionaries that define Math terms, encyclopedias, formulas, and tables, and history of Math (which includes stories, famously solved and unsolved Math problems, inventions, and biographies of famous mathematicians).
Founded Year: 2005
Cost: FREE
Khan Academy is one of the best-known online learning platforms for school students from classes 5-12. Founded by a Harvard graduate Sal Khan, Khan Academy has attracted funding from the Bill Gates Foundation because of the high-quality courses it offers to students.
The Math courses on the site are easy to understand and explain the key concepts in different ways. Over the years, Khan Academy is one of the few e-learning sites that have proactively worked to improve its quality. All the instructors are highly qualified and the fee it charges is quite affordable.
With the value it offers to students, we expect it to be among the top tutoring websites in 2019.
Founder: Salman Khan
Founded Year: 2007
Cost: FREE
If you think that it is better to find tutors online for Math, you are right. Chegg proves it. Chegg is a publicly-held company which trades on the NYSE. Based in Santa Clara, California, the website connects school students with best-licensed teachers across the world. It also offers tutors holding Masters and doctorate degrees to college students looking for online tutors. Chegg Math Solver is an excellent tool for students that offers a detailed explanation about how you can solve a math problem step-by-step.
Chegg also offers instant online tutor help to help you with your homework anytime you want. Just connect with the tutors through your smartphone, tablet, or computer and ask them any Math problem you are struggling with. You can also buy and sell used textbooks on the website as well as join its great affiliate program to earn some money online.
Founders: Osman Rashid,  Josh Carlson,  Aayush Phumbhra
Cost: 15$ to 96$ per hour
ALSO READ: Best Online Tutoring Websites for 2019
Wyzant is rapidly emerging as one of the formidable online tutoring sites. To sweeten its offers, it even offers college scholarships for three students (up to $15,000). To win these scholarships, one has to write an essay. The scholarship winners are decided by the number of online votes these essays are able to get.
Besides, Wyzant is one of the rare online education platforms to offer a Good Fit Guarantee. It means for every new tutor you try, your first hour is considered a trial hour and you only pay for that hour if you are satisfied with the lesson.
Founders: Andrew Geant and Mike Weishuhn
Founded: 2005
Cost: $50 to $250 per hour
One thing that is certainly going to distinguish the best online learning websites from others in 2019 will be the appropriate use of the latest technology. TutorMe employs a smart matching system to match the student with a live tutor who can offer him or her with one-on-one help. Besides virtual whiteboard, the Math tutors here can use a virtual whiteboard, share screens, and use audio/video chat and text editor facilities to explain advanced Math concepts to students easily.
After each lesson, students and tutors can rate each other which ensure that the online learning community promotes high-quality interactions only.
Cost: $39 to $119 per hour
ALSO READ: 7 Big Benefits of Online Tutoring for Students
If you are looking for online tutors in Math, you cannot miss the next-gen app Yup.com. Earlier known as MathCrunch, this mobile-first tutoring service originally helped students find personal Math tutors. In 2016, it changed its name to Yup and forayed into Science tutoring as well.
We think that Yup is one of the genuine online tutoring sites that will do well in 2019 as it allows students to avail the one-on-one live tutoring service using their smartphones (via instant messaging service). Students can simply take photos of a graph or an equation and the AI technology the site employs can figure out the question students are referring to. You can seek help from online experts to do your homework for as long as you like here.
Founder: Naguib S. Sawiris
Founded: 2014
WebWise Tutors is one of those online learning sources for students which does not limit one's learning by one's age or grade level. It offers online tutoring to students from K-12 as well as homeschool students, gifted students, and students with special education requirements. All the teachers on the website have appropriate online teaching credentials and certifications.
In an age where online education is repelling all kinds of barriers that limited one's learning attainments, such learning websites are a boon for all students.
Cost: $52 per hour
eTutorWorld offers high-quality online tutoring services to school students worldwide. Though this site does not offer 24/7 help like some other tutoring sites, eTutorWorld does offer most economical tutoring services online. The site also offers a specialized program to help you with the School and College Ability Test (SCAT) which is quite good.
The educators here are highly skilled and knowledgeable and employ simple and fun pedagogy to help students gain a deep knowledge and understand basic to advanced concepts of Math (and other subjects). The Math tutoring methods one-on-one tutors apply here focus on how to solve real-world problems using the strategies students learn in class.
Cost: $799 to $899 for 50 sessions
One of the best interactive learning sites for Math students, MindLaunch uses a proprietary Intelligent Educator Math tool which matches students with the right tutors. The online Math tutors here are real teachers with advanced degrees in teaching and years of experience in the field.
The site will remain strong in 2019 as it provides its teachers and students with all the tools they need for meaningful interaction – from live audio and video facilities to screen sharing capabilities.
Cost: Monthly subscriptions from $180 to $750, or session packages from $99 to $1,600
Relatively a new Math tutoring website, CrunchGrade is a subsidiary of Adinio Pty. Ltd. It offers tutoring services that cater to school students in more than eight different countries, including US, UK, Canada, Australia, Malaysia, Hong Kong, and Singapore. The site focuses on personalized student-centered learning packages, instant homework assistance as well as exam preparation tutoring to students from Grade 6 to university levels.
It seems to have a promising future as it has qualified tutors from premier institutes on its panel and offers pocket-friendly pricing. Like all legitimate sites, it guarantees 100% satisfaction and if you are not satisfied with a tutor, it connects you to another one for free.
Cost: Most affordable at 32$ per hour plus a 30 minutes FREE session
Conclusion
In 2019, the online education websites for students that employ interactive technology and focus on quality will be the ones that will win the global competition for the online Math tutoring market. The online learning sources for students we have mentioned above include educational websites that have been around for years as well as the most promising educational startups. We suggest you opt for the trial classes and then, decide which site can offer you the best online help in Math.