Leave Applications for Absence From School – Format & Samples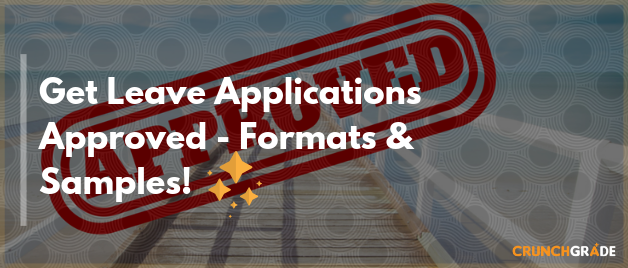 Leave applications are necessary especially when you are taking off from school for a significant period of time. There can be several reasons why a student cannot attend school once in a while may be due to health issues, ceremonies like a wedding in the family, a vacation to another country or city, or a fatal incident. In any case, providing a leave application confirms that you hold yourself accountable for not attending school for that time period and take responsibility for compensating with your loss of studies.
Generally, students have to present a leave application to their class teacher or the Principal. If not, parents may also write a leave application on their child's behalf. Sometimes the letter may be written after taking leave but it is always recommended to inform the school beforehand. Depending upon the reason for your absence, the content of your application may change. However, one should maintain a polite tone and write the letter in a formal format.
Template for writing a leave application
From,
————-
————-
Date (Date on which letter is written)
To.
————-
————-
Sub: ————-
Dear ————-
With due respect, I would like to bring to your kind attention that my ————- is studying in grade ————- of your school. We have recently planned a family trip to ————-. My ————- is very much excited about the same and has already submitted homework to the class teacher. The trip is for one week, therefore we kindly request you to grant ————- leaves from ————- to ————- have spoken to the class teacher and requested her to complete the syllabus in advance so that there should not be any difficulty for ————- after returning from the trip.
I hope you will consider this letter as formal leave application and grant the Leaves for the above mentioned days.
Thanking you.
Yours sincerely.
(————-)
 Mention Receiver's and Sender's address
This is the first section for every kind of leave application. This contains information about who is sending the letter or writing the leave application and to whom it has been addressed. Example,
From,
Steve Simon
Roll No. 25
Grade 9
To,
Miss Jennifer Robins
Class Teacher
Angels School
 A formal greeting to the addressee
Always greet your teacher or principal at the beginning of the letter. Example,
"Respected Madam/Sir" or "Madam/Head Mistress"
 Mention the subject line
The subject line explains the reason for writing the application in a short sentence. It need not be a big complete sentence. Always make sure that you are mentioning the subject of the application in less than 8 words. Example,
"Leave letter for grandfather's death" or "Leave letter for uncle's wedding"
 A line for leave of absence
Firstly, introduce yourself by mentioning your name and grade. Then, in one or two sentences mention the reason why you are taking leave form school. Also, provide the dates clearly when you are taking leave. Example,
"I am Simon, a student of grade 9 in your school. My brother's wedding ceremony is on 16th February 2019. Hence, I will not be able to attend the school from 14th February 2019 to 17th February 2019." Or "My son Simon Steve studies in grade 9 in your school. We are going on a vacation to New York during the autumn break so we need to get our visas renewed. Hence, Simon will not be able to attend school on 10th January 2019."
 Further Explanation
It is not mandatory to mention a lot of details but if you want to stress upon why taking leave is important for you, add a few sentences in extension to your reason regarding taking leave. Here, you may explain your situation in details. You can also mention here how you will manage with completing the school work. This will show that you are aware of your responsibilities towards your studies. Example,
"My brother's wedding is a precious moment for the whole of our family, a great occasion for all of us to be together and I also want to be a part of it." Or "We have tried to schedule the appointment to Saturday but the visa office is open only on weekdays."
End the application by a formal request
In the end, request your teacher or principal to grant you leave for the stated period and thank them in advance for considering your request. This shows your courteous behavior and hence increases your chances of getting a leave. Example,
"I will be glad if you could allow me to take leave for 3 days so that I can attend this cultural event and rejoice with family." Or "It is my humble request if you can allow Simon to take leave for a day as it is important for us to get the visa renewed."
 Closing the letter
In end present your courtesies by thanking the addressee and once again mention your name and grade. Also, get your application signed by your parent. If you are a parent, mention your name and relation with the child. Example,
"Thanking you,
Sincerely,
Simon Steve
Grade 9"
Or
"Thanking you,
Sincerely,
Robert Steve
Father of Simon Steve
Grade 9"
Some Sample letters of leave for your reference
Now consider some sample letters of leave for your reference and see how they have included the above-mentioned points in the letters –
Sample School Leave Letter for death
"From,
Tanya Johnson,
9001 Palladium Terraces,
Lower Downtown
DD/MM/VYYY
To,
The Principal,
St Joseph School,
Melbourne
Subject: leave letter for brother/sister/grandmother/relative/grandfather death
Respected sir,
Today is a very sad day for my family and me I am in pain and full of grief on losing my beloved brother/sister/grandmother/relative/grandfather. I want to inform you that I will not be able to come to school from 13th January to 20th January as we are going to our native place for the last rituals of my brother.
I would like to take my name back from the Republic Day function to be held on 25th January because I will not be able to attend the practice for the next seven days. Request you to grant me the Leaves, and I will make sure to complete my missed homework before joining the school.
Hoping for your kind consideration. Thank you in advance!
Yours sincerely
Tanya Johnson
Grade 9 – roll number 32
Sample School Leave Letter for a Wedding
From,
Avinash Desar
304 Wind Towers,
Hill Side,
Sydney
DD/MM/YYYY
To,
The Principal,
Sydney Grammar School,
Sydney
Subject: Leave Letter for sister marriage
Respected sir/madam
Please be informed that my son Abhishek Desar is studying in grade 4 in your school. My sister's wedding ceremony is to be held on 25th February. So my son will not be able to attend school from 24th February to 27 February.
Request you to grant him leaves during this period. He will take notes from his friends and complete the school work before rejoining. I shall be very thankful to you for granting Leaves.
Thanking you.
Yours sincerely.
Avinash Desar – Father of Abhishek Desar
Grade 4 – roll number 25.
Sample School Leave Letter for Visa
Ashley Don
304 Breeze Towers,
Perth
DD/MM/YYYY
To,
The Principal,
Perth American School,
Perth
Subject: Leave letter for visa purposes
Respected sir/ madam.
My daughter Ashley Don studies in your school grade 5. We are going on a vacation to Australia during the summer vacation. For the trip, we have to get our visas renewed, and for that purpose. I would like you to grant leave to Ashley on 24th February (Friday) for the visa interview.
We tried scheduling the interview for the weekend. but the Australian embassy is working only on weekdays, and so we had no other option but to schedule the interview on a Friday. I request you to kindly confirm the Leave so that we can start the visa process.
I will make sure that Ashley takes notes from her friends and completes the homework over the weekend.
Thank you.
Yours sincerely.
Ray Don – father of Ashley Don
Grade 5 – roll number 14.
. . .
Pro Tip!
As we all know, English can be pretty challenging language to grasp especially grammar rules, essay writing. Ultimately, it is always better to learn languages under a tutors guidance. But it can be difficult for students to get extra support due to their loaded schedules. Which is why the best possible way could be to hire an online English tutor or online math tutor at CrunchGrade. It is not only affordable but also personalized. Book now!
First 30 Minutes FREE!