Scholarship Exams for Class 7 Students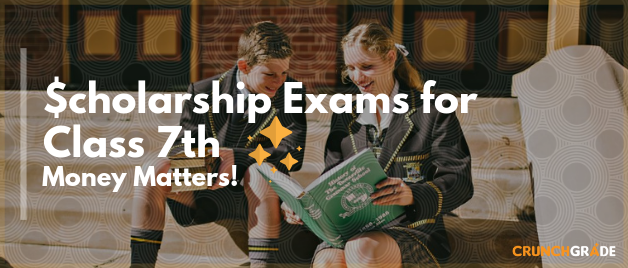 Scholarships are a dream for many students. It is not only for students who are financially week but there are various reasons why a student should apply for scholarship exams. School is a time when there are many scholarship programs which take place in school. Even outside providers also give an opportunity to school students in class 7 to apply for scholarship programs. The scholarship programs can be full or some percentage of tuition fee waivers. This helps the parents to save a lot of money and they feel proud that their child is an excellent student.
There are many students who have the misconception that scholarship only helps to save money and it doesn't have any other benefits. To remove this misconception, let's understand some of the major benefits of scholarship:
Scholarships give you self-confidence
There are thousands of people who apply for a scholarship and only a few are able to achieve it. What does this exactly prove? It clearly shows that it is not possible for every individual to get a scholarship. Therefore, those who are able to achieve a scholarship have truly worked hard for it. This way a student feels confident enough to work hard towards other goals in life. A scholarship helps a student in getting recognition and making the student feel proud. If you get a scholarship, you can always feel confident between a group of students and it will boost your moral.
You can get into a good university in the future
Class 7 won't be an age where you are thinking about college days and getting admission to an amazing university. But you should know that one day your scholarship can definitely help you in getting admission to your favorite university. Good universities around the world want students who have always shown that they are an excellent student. Therefore, a scholarship is not only for a present purpose but it can be a gateway to big universities. Students in grade 7 also choose to take the Naplan Test(National Assessment Program for Literacy and Numeracy in Australia)
Increases the value of your CV
You are in 7th standard right now you'll complete your school in some years, then your college and then what? Yes, the time will arrive when you'll have to be independent by earning and working a job. And getting a good job in this competent world can be a tough task. This is where your scholarship can make you stand apart in the crowd. Your CV will be different from others and it will show employers that you have been a consistent achiever in your life. Ambitious students may also choose to appear for IB Test(International Baccalaureate). IB offers high-quality education to students from ages 3 to 19, enabling them to think independently, logically and critically.
So, now you have clearly understood the real benefits of getting a scholarship in class 7th. But finding an excellent scholarship can be a daunting task. There are many students who get confused that what scholarships type they need to apply for.
Scholarship types which can help you choose:
Means based scholarship
This is the type of scholarship for students who require financial aid. Every parent wants their child to study in a big and renowned school so that the child can get the best education. But everyone is not able to fulfill this dream because of the financial condition. Therefore, there are various government and school scholarships that can be availed. Parents need to search for means based scholarships which suits them so that they can get benefit from it.
Merit-based scholarship: One of the most popular scholarships is Merit based. There are many students who are excellent in studies and achieve extraordinary marks in class. This academic success can lead them to Merit-based scholarship. The child can receive a financial aid award or can get some discount on school fees. This way the academic excellence of a child can help the parent in getting some financial relief.
Athletic scholarship
Is your child good in sports and receiving applause from every individual? Well, this athletic talent of your child can help him/her receive a scholarship. Sports based or athletic scholarships have been of the renowned scholarships around the world. There are many sports personality who have reached huge heights and believe that athletic scholarships have played an important role in their life in achieving their dream. A class 7 student can perform well in sports and the student can demonstrate that they are going to perform well even when they'll go to higher classes. This is where the school can offer them an athletic based scholarship.
Talent-based scholarship
Not every child is good in studies, not every individual is an engineer or scientist. The world needs entertainment as well, therefore, there are singers, actors, dancers as well. Your child can be talented enough to sing well and would have a dream of becoming a pop star or the whole school cheers when your child is on stage to perform an act. This talent can provide your child with a deserving scholarship.
Here are two of the most popular scholarship exams in Australia for class 7 students:
The ACER Scholarship Tests
This scholarship exam is conducted all over Australia. Students need to prepare for this exam and their academic talent can help them in receiving the ACER Scholarship. The registration for this exam can be done online. Students just need to fill the form and they can get the date on which the exam will be conducted.
Edutest Pty Ltd
This website also helps school students in Australia to receive a scholarship. The students need to register for the Edutest exam and the website will contact the school if the student is able to clear the exam. This way a student can receive a good financial aid scholarship.
Most of the scholarships in Australia for class 7 students are provided by the school itself. Now, as you know about the different scholarship types, therefore it will be easy for you to ascertain which scholarship type can be the best for your child so that you can contact the school and your child has a shot at gaining heights academically.
Pro Tip
For the preparation of scholarship exams, you're gonna have to brush up the analytical and reasoning skills. Students appearing for such exams need a solid foundation in subjects such as Math and English. A one-on-one tutor is most beneficial since students grow loopholes in their foundational years in both subjects and a subject matter expert can help find those gaps and fill it with the right knowledge.
If your child is preparing for a scholarship exam, you can find expert tutors for Math, subject matter experts for English at CrunchGrade.
CrunchGrade is an online tutoring platform for students studying in 6-12 Grade. Tutors at CrunchGrade go through a thorough selection process and all our tutors are certified. Find tutors for all subjects here!
If you're still confused. You can book a FREE 30 Minutes Session!