How to get into a university without ATAR?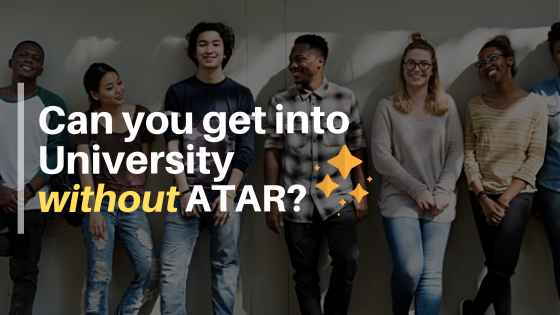 A lot has been said and discussed how difficult the life of a student is while they are in high school struggling to get better grades and are on the cusp of getting into the college of their dreams. There is no denying that good scores are vital to secure a spot in the college that you want to go to the most. All the hard work and the effort, doing the duties by the students in the final exams of their high school is what you get in the form of the ATAR scores. Before we get on point of getting into a university without ATAR, let us first understand ATAR!
What does ATAR mean?
ATAR is also known as the Australian Tertiary Admission Rank which basically determines how a student fared in the HSC exams. For example, if a student scored 80 in the ATAR, that means he beat 80 people from his age group and succeeded. Most higher education institutes such as colleges and universities choose their student pool based on the aggregate ATAR score. Based on this very finding it is easy to evaluate that the higher you score in your ATAR results and ATAR scores, the higher your chances of getting into the university of your choice.
How to calculate the ATAR score?
There have been speculations that the ATAR scores are rather biased and unfair. But this holds true for all those people who have no clarity on how the ATAR scores are calculated. To give you a better understanding of how the scores are calculated, we will break it down in the simplest way possible. Depending on the subjects that you take there are 4 marks attributed, and the breakdown happens in the following manner:
● Examination marks
● Assessment marks
● HSC marks
● Performance band
The one other point to keep in mind is that ATAR calculation depends more not just on your individual scores, but how those individual scores place and rank you in terms of your entire class or school. The highest your average ATAR score, the better you have chances of securing a spot in the college that has high cut off ATAR scores. We can now say, we have a fair idea about the ATAR exam. Now, let's explore the answer to the big question!
Can you get into a university without ATAR?
Earlier on right here we did explain that getting a low score in your ATAR exam does not mean that you are not entitled to study in a college. In fact, for most students who find their way into colleges, 50% of them are the ones who get in not based on their ATAR estimate or ATAR scores. We hear people time and again say that getting into a college based on your ATAR percentile is the most difficult, however, the most important is staying and completing the entire duration of your college life.
Australia which has become a destination that many students flock to for higher education makes sure that irrespective of the scores and grades, there is always a walk around to getting into college and pursuing higher education. The ATAR predictor only helps with the initial thrust but the actual question comes to be that of how successfully you can stay and maintain the same score while you are in college.

One of the routes to get into college is that of the ATAR pathway, but just in case, your ATAR scores didn't stand up to your expectations, there are several other road maps that you can follow to get into the college of your dreams. The bottom line is that ATAR Australia is not the only guideline that can be followed to decide whether a motived high school student can pursue higher education in a reputed college.
It is important to understand that despite scoring the lowest ATAR, you can choose to get into a diploma course that is similar to the career interest that you later want to pursue, and once you ace that, you can still find your way back and complete a graduation to get you a job that you deserve to do. The only thing that an ATAR estimate of your ATAR scores does is act as a stepping stone to give you direct entry into your college. Through alternate ways, sure you will get to your college, but it will just take a tad bit longer. So, irrespective of your ATAR scores, don't stop chasing your dreams because sooner than later you will be on your way to getting to it.
Now, assuming you may choose to take the ATAR pathway, let's learn a few more things about ATAR!
What is a good ATAR score?
Before we get to highlight this, we need to make one thing crystal clear. Your ATAR scores do not define who you are. It is true that the ATAR scores are important, but they are a mere deterrent to help universities determine which classes you can sit for and what your performance will be like. As per the ATAR notes, it is also understandable that it is a score that can fall in a wide range of a number from 0 to 99.95. Having said to get back to the answer of what can be termed as the lowest ATAR score in an ATAR exam, the answer will be any rank less than 30.00.
Through ATAR Australia, this scoring criterion only helps people understand and gauge your performance, but that doesn't mean that a low score is the end of the world and a high score will mean that you are unbeatable. So, keep your hopes high and keep trying, for your individual results and ATAR scores are not the true litmus test of your character and ability.
How to find your ATAR score?
All the students who give their HSC exams and are preparing to enroll for admission in colleges and universities can easily find their individual ATAR scores. To access your ATAR results, log onto their website and log in with your assigned year 12 student number and UAC pin. Normally the ATAR results come out a day after the HSC results are out each year in the month of December.
PRO TIP
If you're serious about high school and want to take the ATAR route, you'll need a solid foundation in high school courses. Most students choose to study with expert tutors to gain the advantage especially when it comes to tough subjects such as Math, English, Science courses, etc. You can either choose in-person or online mode of learning.
Here's a list of best online platforms to find tutors for you!
In high school, you'll have to take several courses. From our experience, we understand Math and English could be more troublesome for students.
Find Australia's best online English and online Math tutors! The first lesson is absolutely FREE!