10 Guaranteed Ways to Improve Grades in High School [A MUST READ]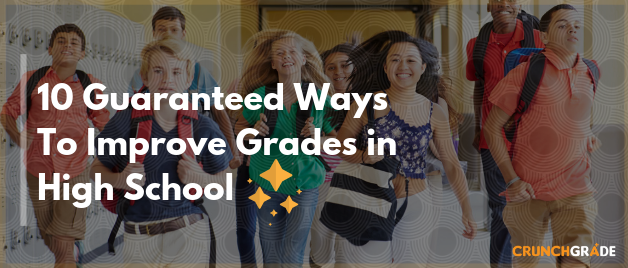 High school is a crucial time when students can achieve academic excellence and prepare themselves for college. This is why getting perfect grades in high school is every student's dream. But, regular assignments, classes, self-study, and extracurricular activities can be overwhelming. So, how can students maximize their learning efficiencies so that they can score better grades? Here are the top 10 easy and guaranteed techniques that can improve your grades in high school.
1. Set your Goals
What grades do you aspire to? Having a goal would motivate you to study regularly and achieve them in reality. Hence, set your academic goals and lay a roadmap to your dream grades. For instance, some of your goals could be to complete every assignment on time, attend classes regularly, or prepare notes every day. Let's face it, you cannot get into a great college without better grades. And if you are looking to ace your grades in tough subjects such as Math, Science, and English, you're gonna need extra learning from a professional tutor online to master those tough concepts.
READ MORE: Online Tutoring or In-Person Tutoring? Find it out!
2. Organize Everything
High school might overwhelm you with all the extracurricular activities going on and different subjects to learn. Being organized is the key to classroom success. Therefore, take note of any events, due dates for assignments, and test dates. Not only this but organize your study materials and notes properly so that you do not get confused before the exams.
3. Have a review system
As you start learning new facts and concepts in a subject, chances are that you might forget the previous ones. This seems a daunting situation during exams. But a superb solution is to have a review system once you have learned a topic try to review or revise it periodically after some days by increasing the time gap between the reviews.
4. Clarify your doubts
Can't understand a topic completely? Instead of wasting time trying to understand it on your own or just leaving it until the end, seek help from someone. For instance, many students seek assistance from an online tutor to get good grades in middle school. This makes learning a subject easier for them.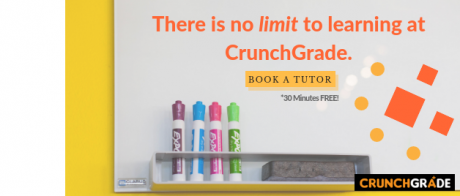 5. Identify your weaker areas
There might be some subjects that are hard to master. Identify them and pay more attention to them from the beginning. Try different learning strategies so that you can find what suits you the best. You can also consult a tutor or your school teachers as they can identify and guide you through your mistakes.
READ MORE: Find an awesome tutor to ACE MATH!
6. Prioritize things
If you want to become successful in high school, you must learn to prioritize things. Managing your time properly will give you an opportunity to study better. Set a timetable for every day and during that time just concentrate on studying. Stay away from distractions such as your mobile phone, television or social media.
7. Develop your study habits
Your habits determine your routine and your routine determines your priorities. Good study habits will not only help you get better grades in high school but in college as well. So make a list of study habits you want to adapt and start incorporating them into your routine one by one, for example, no procrastination or being punctual.

LIKE us on FACEBOOK: CrunchGrade – We help you Get the Grades you want!
8. Find your study space
The secret to success in the study is having a well-organized area where you can study without any distractions. Find a place that is comfortable as well as peaceful so that you can concentrate easily. An easy access to your notes, study materials, and stationery will increase your productivity to a great extent.
9. Practice and Prepare
The more you can practice the better you will perform in the tests. Learn the art of preparing a subject well. For instance, practice math problems every day to score better grades in math or hire an online math tutor from CrunchGrade. For subjects like literature and history, practice skim reading so that you can grab the idea of the text quickly. Use flash cards to learn the science & Math formulas.
10. Take good care of yourself
All of us know that health is wealth but we often forget the essence of it. Stressing yourself too much and ignoring your health can bring down your grades. Keep yourself healthy mentally as well as physically. Work hard but keep rewarding yourself with some moments of relaxation. Having a healthy diet and a little exercise is always a good way to keep your mind and body energized.
So are you ready to get better grades this time? Well, every student can achieve good grades in high school. All you have to do is understand your strengths, work on your weaknesses and make the most out of every minute of your day. Try incorporating one change at a time and you would definitely achieve success not only in high school but throughout your academic career.
Learn Anywhere You want. Any Time You want.
Try online tutoring for FREE!
CrunchGrade is an online tutoring  platform for learners and tutors. It has over 200 verified tutors teaching over 20 subjects available at a click of a button. Simply, choose a subject and a tutor of your choice and begin learning!