After-School Activities & Clubs For Middle School & High School Teens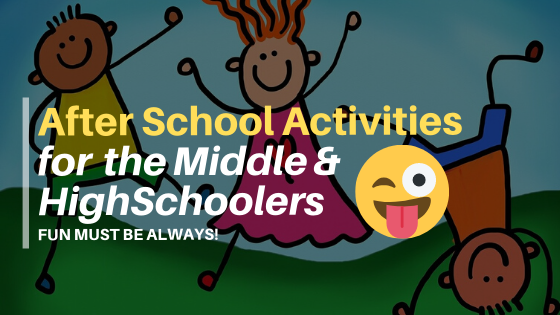 How do you unwind after school? What after-school activities are there? I'm so bored!!!!!
Hand on!! Let's try to break down the list of after-school activities for you so you don't have to search for "activities after school near me".
My after-school

fun
What do you generally do after school? Do you like watching TV or scrolling social media all day or do you prefer hanging out with your friends, playing games and learning something new online? Have you ever thought about how can you utilize your daily free time interestingly when school gets over? Well, this post will give you some of the best activities that middle schoolers and teenage kids can pursue after school.
But why should you have fun after school?
Why Are After-School Activities

Important

?
After-school activities or extracurricular activities are a buzz these days. In fact, studies show that nearly 6 out of 10 kids from ages 6 to 17 take part in at least one after-school activity. If chosen properly, these activities can be extremely beneficial for the kids. After-school activities often aid in increasing their confidence, boosting self-esteem, keep students motivated, and improving social skills. They help them explore various new interests and passions. They give them a fruitful break from the hectic schedule of school full of duties. responsibilities and allow them to rejuvenate themselves.
Some after school program activities teach the basic yet essential life skills to middle and high school students' life goal setting, teamwork, leadership, cognitive thinking abilities, and time management. So let us not make you wait more and introduce some amazing and fun after school activities that you can pursue.
After School
Fitness

Programs

Although schools today pay much attention to the health of the students and offer them opportunities to indulge in activities like basketball, football, yoga, gymnastics, and racing. But, there are many other after school physical activity programs in which the kids can participate and enjoy. These include walking, cycling, aerobics, dancing, and other outdoor games.

It has been seen that students who opt for after school activities get better grades and it even helps to overcome procrastination since they feel more involved and connected with their peers and school.
After School
Science Club

Activities

Do you enjoy science practical classes at school? If yes, then you must consider joining after school science activities. Many after school clubs for 11-year-olds include science clubs where kids experiment and learn different phenomenon of science. This can enhance your interest in the field and sharpen your mind. See if your school runs an after-school science club and join one soon. If you're more academically focused; find an online science tutor who can help you to explore topics in the ways beyond the scope of your text-books.

We vouch for online tutoring over traditional methods of learning. Find out why!
After School
Music

Activities

Do you know Elias Phoenix who played the piano at Carnegie Hall when he was just 7 years old? Music can be a fun after school activity for middle schoolers and high schoolers. It can help them relax after a hectic day. In fact, learning music is just like learning a second language. It helps in the development of the brain. Music also helps in building your focus and concentration skills.
After School
Cooking

Program

Do you know cooking can help you enhance your math skills? It can also give you amazing knowledge about nutrition and diet too! It can be a fun after school activity for 5th graders and help them learn to follow instructions and enhance their listening skills. So join a cooking club, bake some cookies, make smoothies, pasta and some amazing dishes and enjoy your after school time. There are several scholarships for 11, 12, 13, and 14 years old that require skills other than simply academics to apply and qualify for.

After School
Entrepreneurship

Activities

You might be thinking about how can a middle school or high school student become an entrepreneur. Well, it can be fun and fundraising too! If you are fascinated with the idea of working and earning money you can ask your parents and friends to support you in some entrepreneurial activity. It could be as simple as making jewellery from waste materials, selling popcorn, creating art will nature or anything that you like. See how this 10 years old is raising funds for bees with her Lemonade Empire!
After School
Craft

Activities

For those who enjoy being creative, after-school art activities are the best option and they are easy to pursue. From origami to acrylic painting, there is so much to learn. All these activities not only keep kids engaged after school but also enhances their self-esteem. Kids develop their communication skills when they talk about their artwork. It is also a great way for parents to sit together with the children and spend some time with them, enhancing their bonding.
After School
Chess

Club

Chess is often called the game of genius. Hence, it could be an incredible way to utilize your time after school and one of the best after school enrichment activities for middle school students. This game helps you sharpen your brain, enhances your memory, and improves attention, strategic thinking and cognitive abilities.
After School
Homework Assistance

Programs

Homework is an essential part of your after-school time and students must pay attention to it equally. After school homework programs can help middle school and high school students complete their homework on time so that they can then indulge in some other activities too and not just keep studying all day long.

In homework programs, students receive guidance on how to complete their homework assignments and projects, especially for tough courses such as Math, Science, and English. You can find an online Math tutor if Math happens to give you chills every time you think about it!
After School
STEM

Club

One of the most popular after-school activities for middle schoolers and high schoolers nowadays is STEM Club. It includes activities related to chemistry, physics, technology, coding, physiology, and biology. After-school STEM activities are not only relevant for them but also help in enhancing their skills like collaboration, analysis, measurement, observation, and communication. Make sure you explore the costs involved, tutoring rates for STEM Clubs and activities may vary across Australia.
After School
Reading

Activities

Kids are introduced to storybooks from elementary age and so does reading enters their life. Reading is considered the best way to enhance your concentration. It is a great exercise for your brain and above all, it imparts knowledge. It enhances your writing skills and vocabulary. It makes you think deep and analyze better. And if you want to do just the same from the comfort of your home, then you have the option to study grammar and writing rules online with an expert English tutor.

After School
Language

Classes

Being bilingual in this era is beneficial. Learning a foreign language helps you increase tolerance for others, enhances your career and opens up doors to philosophy, music, art, and culture. It can be helpful if you want to study in a foreign country. The most common foreign languages are Mandarin, Arabic, Spanish, German and French. But if your plan is to make the best use of your time after school to ace your next English test then there are absolutely free English learning platforms at your disposal to explore.
The Average
Cost

of Afterschool Programs

($)

It has been reported that households in Australia are spending around $100 every week on the after-school activities of their kids.

A half an hour lesson of music for a child can cost around $30 while activities like arts, crafts, dancing, music, and sports can cost up to $35 per week per child. The after-school STEM programs and homework programs are also paid for.

However, if parents are willing to guide their kids, the internet can be a great option to find new and interesting activities and projects to carry out.
A
Balance

To Be Maintained
All fun no work makes Jack a dull boy. – Unknown
We hope that you found something of your choice in these after school activities for high schoolers and middle schoolers. After school, extracurricular activities can help you discover your passions and find a career path. But, all this would be in vain without a good academic record.
But students need to maintain a balance between after school activities and studies. the overall development of their mind and body takes place. So wait no more and join an after school activity that interests you.
Also, to stay on top of your class and career growth! Find a tutor who cares!
Study with subject matter experts at CrunchGrade – an online tutoring platform for students in Year 5 – Year 12 students.
Your first class is absolutely FREE of charge!
Book a tutor for Math, a tutor English, a tutor for Science, a tutor for Chemistry, etc.