How much should tutoring cost in Australia?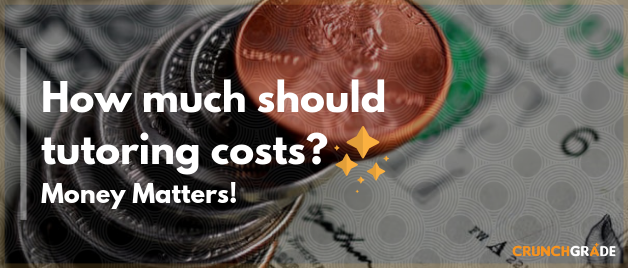 Education is an important part of human lives, it is a medium of acquiring essential knowledge and skills. It is not only about books and learning, but it's also about life's wisdom that is transferred from the teachers to their students. The world is changing rapidly and education is an essential part as it helps an individual play a role in the development of society. It also helps a person become successful in life and to become a productive member of a civilized society.
An investment in knowledge pays the best interest – Benjamin Franklin
All these things are possible with the help of a teacher, who makes a student become an efficient person who can be intellectual and trustworthy. This is the reason, parents want to send their children to good schools and want brilliant teachers to guide their children. Well, with the demand for excellent teachers comes a price to pay! But, how does one gather information about how much to pay to the tutors and teachers? We have a few pointers that may be insightful in deciding the cost factor.
Factors affecting the cost of tuition fees
The cost can go high with teachers who are highly qualified or are registered tutors with some affiliation and credentials.

Teachers who have a good amount of experience can increase the cost.

Teachers who have plenty of educational material for students from their educational qualification or past experience.

Teachers who have proven record in supporting students improve their marks.

Costs can vary depending on the tutors/teachers location.
Every school or teacher has different costs for a subject. But there is an average cost which can be kept in mind before considering a school or university in Australia. Here is a range of tuition costs which vary depending on the year a student is:
School – $7,800 to $30,000

English language studies – Around $300 per week depending on course length

Vocational Education and Training- $4,000 to $22,000

Undergraduate Bachelor Degree – $15,000 to $33,000*

Postgraduate Master's Degree – $20,000 to $37,000*

Doctoral Degree – $14,000 to $37,000*
(Source- www.studyinaustralia.gov.au)
After the school and university costs comes the private tuition cost. Parents want their children to understand a concept clearly so that they can bring good grades. These tuitions are different from school as their main focus is to clear the concepts and doubts of a student so that a student is confident in exams. These tuitions make students solve practice papers and understand the sample question papers to give them the gist of the school exams. This helps the students learn time management and they can complete their exams on time.
Different Modes of tuition & their Costs 
Corporate tuition center
Corporate tuition centers help to bring out the best of a student. It helps to develop their talent and improve their skills. The students in corporate tuition centers are less as compared to students in a school classroom. This helps teachers to pay more attention to every student and clear their doubts in a more effective and efficient manner.
Corporate tuition centers believe in moving one step ahead of school, the topics which would be discussed in school are already completed by coaching centers. This helps the students as they understand the topic twice and even give answers in class and feel more confident by building a good image in front of the teachers.  
These centers conduct regular tests which help the students practice for the exam. The students can also meet other students from various schools at one place and can build a bond with them. They can socialize with them, make friends and maybe have a study group.
The average cost of corporate tuition center– $$$
$50 to 80$ per hour depending on the subject.
Tuition centers can be a little costly because they provide their own study material and have to pay experienced teachers. Usually, these centers charge on a monthly basis and give discounts if paid in advance. Some centers also give a money back guarantee option if they don't see any improvement in the student.
Private tutor
Private tuitions are one of the oldest forms of tuition in the world. Students not understanding enough from school need someone to clear their concepts so that they can get good grades. The tutors customize the lessons in a way that it is easily understood by a student.
One to one teaching helps the students in getting more attention and time from the tutor.  One of the best benefits of private tuition is, a student can choose their teacher. A student can know whether a teacher is good or not by seeing their past records or being referred by someone. Private tuitions help a student build a bond with the teacher. This way a tutor can give life lessons to the student and student can grow as an individual.
The average cost of private tuitions:  $$$$
These tuitions can cost from $40 to $50 per session depending on the subject.
Private tuition cost less compared to tuition centers. These can be home tuitions, where the tutor will visit the house of a student for a session or maybe the student can visit the teacher's place.
Online tuition
Online tuitions are one of the most upcoming types of tuitions. There are various reasons why a student is opting for online classes. There are plenty of reasons why online learning trumps traditional learning. It's easy and accessible as there is no need to commute and go a long way to tuition centers and waste time in traveling. A student can study as per the needs. They don't have to be dependent on the timings provided by the teacher. They can choose their time and feel free to study then. Online tuitions provide comfort to the students and they can sit on the bed, furniture of their choice or choose their learning environment.  
They can even study in groups by taking the group sessions, and friends can study together. Online tuitions are a good way to save money because all you need is a laptop and an internet connection. Like private tuition, a student can get more attention from the teacher and understand concepts efficiently.
The average cost of online tuition: $$
Online tuitions are the most affordable form of tuition. They can cost between $15 to 30$ per session. With other benefits of online tuition, it becomes a cost-effective form of tuition for students. Luckily, there are several online learning platforms for you to choose from and book online tutors for Math, Science, English. You can also book tutors for competitive exams such as NAPLAN, NSW Opportunity Class, ATAR, IB(International Barreaculate), etc.
CONCLUSION
Now, it depends on students what kind of tuition they want. It will surely help them in many ways and they can learn a lot. Tuitions help the student to not be restricted to what the school is teaching them.  It helps them to explore and learn new things through evolved ways of teaching. Education is an essential part and tuitions are making students a valued person by getting educated in a more organized way.
We definitely encourage parents and students to try online tutoring. But we also understand their hesitation to try something new which is why we offer a 30 Minutes FREE Online Session with a subject matter expert.