Learn English FREE Online on these Amazing Learning Platforms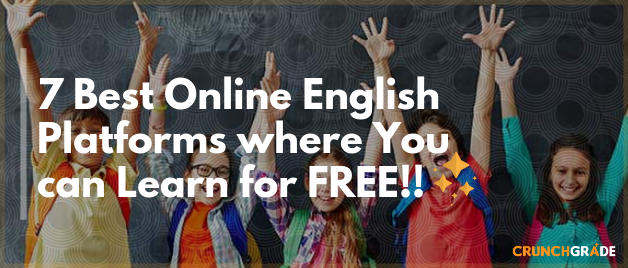 The one thing that makes us different from the other animals is that humans can communicate with each other with the help of language. Communication is what sets us apart. Having said that, it is also true that there are so many languages that knowing and excelling in all of them becomes next to impossible. One of the language that has gained tremendous recognition – English.
Learning English can be mentally taxing. Did you know a teacher and a tutor are different? We can all agree English is confusing!
Are you an international student who wants to understand and learn English? Are you in need of an English online tutor and are looking for an English tutor online free? Do you want to write fabulous essays? Here is a list of the best free online English speaking tutors that can give you free English tutor online in the form of chats!
DUOLINGO
With everyone going online and out there, education and learning a new language has also become easily available on the go. On number 1 comes the very user-friendly website of Duolingo. Duolingo is one of the best free online English speaking tutors that make English learning easy and fun. Go through activities and exercises and what's more, you can even track your performance. With every stage that you clear, you get passed on to the next which is a little more complex than the other. Don't limit yourself to knowing just the basics of English and surprise everyone with your knowledge.
MEMRISE
On number two comes to the name Memrise which is another free English tutor online chat that comes with various modules and gives you the option of not just learning English, but several other languages. It is a free language learning portal that makes learning English fun and interactive. It has a unique way of teaching you new phrases and words that you can know with the literal translation is your own regional language. This gives a student a better understanding and at the same time makes it more convenient for them to comprehend it.
BUSUU
Be it at the beginner level or wanting to learn English at the advanced level, there is something for everyone on this English tutor online free. It has the beginner, elementary intermediate, upper-intermediate, and the travel level as well.
This free English learning tutor gives regular new words and sentences that students might use in daily conversation. It increases your vocabulary by giving new words each day along with the meaning and the way it can be used in a sentence. Keep testing your knowledge and go to the next level of improving your English in an interactive and fun way.
Wait, you could find a tutor nearby. But everyone these days look for an Online Tutor. What's the difference between an Online Tutoring & In-Person Tutoring?
ACCELLASTUDY ESSENTIAL APPS
The best part of this English tutor online free is that depending on the language that you want to learn there is a different app designed. The application used to learn English is rather simple to use and supports both online and offline modes. There are different ways in which you can learn English such as by the means of flashcards, audio quizzes and others as well. Even when you are driving and are on the go you can use the apps hands – free mode while still on the go!
24/7 TUTOR APPS
Another free online English speaking tutor is the 24/7 tutor app which is easy to use and very very user- friendly. By the name, it is easy to understand that one can learn English here around the clock and as per their convenience. All the basic things that are necessary to be known such as food, clothes, education, family and medical terms are listed in the English language so that a non-English speaker can know the basics at least to start with. Each task is specially designed with activities such as memory games, quizzes, and flashcards.
24/7? Isn't that great to have a tutor available for you at the time of your need? One of the several benefits of Online Tutoring.
ROSETTA STONE
One of its kind online free English tutorial that is built especially for the travelers who are traveling to new locations. As a non-English speaker if you plan to visit a new country where English is spoken then this is the application to get you started. The best feature of this application is that along with the words and phrases used there are images put as well, this makes it easier for a non-native English speaker to understand what is being said and it makes it easier for them to learn English as well. The basic sentences that you may use while at a restaurant or a shop are also given in detail so that it makes them aware of how to go about the day to day communication with English.
GOOGLE TRANSLATE
Probably one of the most common and favored applications of all is Google translate. With a steady user interface that allows a person to enter a statement in their local language and then get the literal English translation of the same. Not only is this application easy to use, but it also makes it more fun since people can get to learn almost instantly how to say something in English after having typed it in their local language that they understand the best.
PRO-TIP!
Most of the online language tutoring sites also have free language learning guides that can be accessed. So get online and get learning! But here's the deal, Nothing Great Ever Comes Easy & FREE!
So, if you have little money in your pocket to invest in your future. Find Best English Tutors Online at CrunchGrade. Is it free? It only costs 20$/hr. That's few bucks for finding an expert English Tutor of your choice, for finding a tutor who cares about you! But aren't selling you anything here! We want to genuinely help! Here's a list of Best Online Tutoring Websites we compiled just for you!
Find & Book an English tutor NOW!
Still Confused? Get your first online class with an expert tutor absolutely FREE!