Do students need tutoring to succeed in the HSC?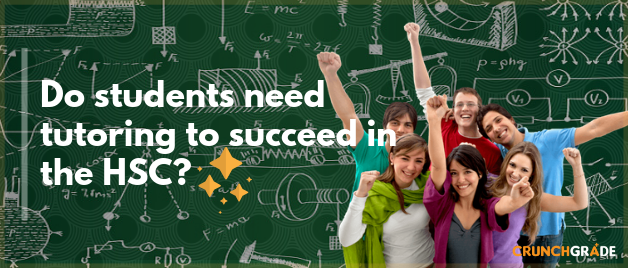 Is your child struggling at school to score good marks and not even able to complete the assignments on time? Are you thinking that sending your child for private tuition classes will be beneficial or not? Well, you are not the only person who is puzzled with this question. There are numerous parents and students for whom deciding whether HSC student should opt for tuition or not, can be a tricky question.
You have to understand that HSC is an important stage for a student's career. They need to score good marks in HSC and clear the concepts so that getting into their dream college won't be a difficult task. HSC is a stage where more subjects are added to the syllabus and a load of assignments increases, therefore it becomes a hectic task for students to understand every concept clearly while sitting in a class of numerous students. They are not able to get individual attention, due to which they lack in various subjects and are not able to achieve an excellent result.
There are definitely a number of options to consider – Online Tutoring Vs. In-person tutoring.
Why Students Need tutoring to Succeed in the HSC
Customized Lesson Plans
In school, it is not necessary that the pace and lesson plan by the teacher is going to suit every student in a way that the student will understand everything in a single go. This way a student will lose focus and will not be able to grab every concept clearly. Now, what about private tuitions? They especially customize the lesson plans according to the student's need. A student can ask a thousand questions from the tutor and the tutor will teach the student according to the student's learning pace. This will help the student to clear every doubt and will not leave any chance of uncertainty.
Individual Attention is Required
One of the most difficult situations occurs when individual attention is not paid to students. HSC is a stage where individual attention should be given to the students because their cleared concepts are going to help them in their college days as well. In school, the attention is being divided between numerous students sitting in a class. Private tuitions play an essential role in providing individual and special attention to the students. They keep an eye on every student to see if they are able to grab everything about the subject. They understand how crucial it is for the student to clear concepts and that is the reason students have knocked their doors so that they can put extra efforts on every student.
Helps build Confidence
Knowledge brings confidence and private tuitions help students to make the knowledge as their trait. They create a bond with the students and not only teach them about the subject, but also life lessons which are going to help them throughout their life. The confidence that students build in private tuition classes makes them an outgoing person who can socialize with everyone and share knowledge. Years of HSC is the most crucial years since it directly affects the chances of getting into a good university. If a student is preparing for ATAR, IB, NSW Selective School Test,  it is vital to get personalized attention by a subject matter expert to excel in the exams.
Help with Homework and Assignments
Completing homework and assignments can be a daunting task for many students. Private tuitions can help students in completing these assignments in a way that they can submit them on time and achieve good marks. The assignments are an essential part of the academic career and not scoring well means not getting a good overall score. Private tuitions can make students understand what all they should include in the assignments and this way a student can get a gist of completing the assignments in college as well. There are several online tutoring platforms where students and parents can find experts for Math, Science, English, etc.
Flexible and Comfortable Study Mode
Students can sometimes feel bored in school and are not able to study and learn things appropriately. They can be stressed due to various reasons, which make studying in school boring. Private tuitions are flexible and a student can learn to be comfortable, this can make the student learn more.
Still confused whether HSC student needs a tutor or not? Well, no worries. Here we have top signs which will help you understand that it is high time for HSC student to opt for private tuitions:
Course Difficulties
Is every subject difficult for the student to understand and score good marks? Then this is the right time to start tuition. Don't wait for the time by hoping the right till will come where you will understand everything magically and score good marks. The concepts should be clear from the initial stages. Students often need expert tutors for tough subjects such as Chemistry, Physics, and Math. Find tutors to excel in all the difficult courses at CrunchGrade – an online tutoring platform for students in Year 5 – Year 12.
Keeping Boredom Out
Getting bored can be an important sign that the HSC student needs a tutor. A student can't concentrate on studies when getting bored. This diverts the mind of the student and things become difficult during the exams time. Therefore, opt for a private tutor who can easily make things happening for you.
Fighting Procrastination
If the student thinks that projects can be completed later on or they keep leaving the important things to the last minute. Then it is the right time to take private tuitions as nothing can be delayed when you are an HSC student. This can happen due to lack of interest or giving priorities to other things. Especially in the case of homework assignments these cases are seen. A private tutor can help the student in assignments.
CONCLUSION
Not taking tuition at the HSC level can make things difficult for students. Therefore, understand the academic needs of a student, because opting for a tutor can help the student in various ways. Always remember the famous quote by Malcolm X that "Education is the passport to the future, for tomorrow belongs to those who prepare for it today."
Find tutors for all HSC Subjects at CrunchGrade – Your go-to destination for finding tutors who care about your learning needs.
To make things easy for you, your first session is absolutely FREE!