Top Primary Schools in WA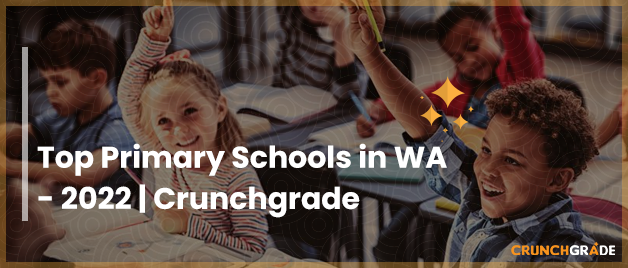 Top Primary Schools in WA
Western Australia has the best schools like Oberthur Primary School, Floreat Park Primary School, International School of Western Australia, Hale School, and Nedlands Primary School. Primary schools set the foundation for a child and help them enhance their numeracy and literacy skills that will be useful to them for life.
The best primary schools encourage and support children to perform their best. They are the places where a child can feel secure, understood and cared for. Choosing a top school ensures that your child would succeed in their academic career.
It is important for parents to choose the best primary schools in WA that:
Ensure to the understanding of the interests, hopes, vulnerabilities and strengths of the students.
Listens to the students and identifies any issues troubling them in the early years of education.
Make students feel accepted no matter who they are or what their ethical backgrounds are.
We, at CrunchGrade not only help students in excelling in Primary Schools but we have also compiled a list of top primary schools in WA. This will help parents make better decisions when deciding on the school for their children.
Also, Read – 11 Best Educational Apps for kids – Turn your child into a Genius
WA Primary School Ranking 2022
Ranking
School Name
Total Enrolment
1
Oberthur Primary School
662
2
Floreat Park Primary School
623
3
Nedlands Primary School
525
4
Caladenia Primary School
905
5
Kapinara Primary School
379
6
School Of Isolated and Distance Education
409
7
Rostrata Primary School
907
8
Dalkeith Primary School
368
9
Subiaco Primary School
724
10
Carine Primary School
587
Wembley Primary School
803
12
Victoria Park Primary School
514
13
Willetton Primary School
642
14
Jolimont Primary School
307
15
Wattle Grove Primary School
809
16
City Beach Primary School
175
17
Ardross Primary School
403
18
Burrendah Primary School
697
19
Bull Creek Primary School
367
20
North Cottesloe Primary School
353
21
Mosman Park Primary School
414
22
Booragoon Primary School
417
23
Applecross Primary School
572
24
Hollywood Primary School
309
25
Winthrop Primary School
608
*This ranking is based on the NAPLAN results of different primary schools in WA.
Also, Read – VCE Schools Ranking 2022
Key Points to Consider While Selecting a Primary School in WA
It is important to think before selecting a primary school for your child as the education that your child will gain here will help them further. Here are a few ways you can select a school that would suit the personality of your child, his/her strengths, needs and interests.
Match your personal values and preferences
Check whether you want your child to gain public or private education. Check what subjects are taught by a school. You can also consider which schools are suggested by your child's preschool teacher and can be the best fit for your child.
Consider practical situations 
Most families prefer sending their children to a primary school within their government zone. Some prefer sending their children to the same school while others consider the cost of travel, public transport and the location of the school.
School factors also matter 
Many parents consider factors like size, classes, facilities and results of a primary school before selecting one for their child. Facilities like a library, outdoor play areas, music programs, clubs and sporting teams are also considered important by parents these days.
Also, Read – After-School Activities & Clubs For Middle School & High School Teens
Involvement of parents 
One of the main traits of top primary schools in WA is how they involve parents in their child's education process. Good parent and school relationships can help a child grow.
WA Primary School Curriculum
Western Australian Curriculum and Assessment Outline Early Years Learning Framework includes eight areas of learning:
Humanities & Social Sciences,
The Arts,
Technologies,
Health & Physical Education and
Languages.
Students of Years 1 to 6 also learn languages like French and subjects like visual art, music, and physical education. Special teachers are appointed in the best primary schools of WA to teach these topics.
The Western Australian Curriculum is based on the Australian Curriculum in the four areas of English, Mathematics, Science and History. Year 1-6 teachers report against the Australian Curriculum Achievement Standards. The curriculum provides a coherent and comprehensive set of prescribed content and achievement standards that are used by primary schools in WA to plan student learning programs, assess student progress and report to parents. Therefore, it might be possible that some schools may be teaching some learning areas from the Western Australian curriculum supplemented by learning areas described in the former Western Australian Curriculum Framework.
Also, Read – Top Primary Schools in NSW
Set the Right Foundation in Primary School with CrunchGrade
If you want your child to have a solid conceptual foundation in subjects like Maths, English, Science, and Social Studies, CrunchGrade is the platform that can provide extensive support to them. We have the best primary school teachers from Western Australia who provide online, live, interactive classes where your child can learn from the safety and comfort of their homes.
Find tutors that inspire your child to learn: Our teachers make it easier for primary school students to want to learn. Their innovative teaching methods nurture children and make sure each child thrives at school.
Help your child build confidence in learning: it is important for children to find confidence in their early learning years. Our teachers encourage students at every step and ensure that they develop the basic skills of numeracy and literacy.
Teachers that use compassion and patience: A primary school student needs someone who can help them build their learning pace. Our online tutors help every child with a personalised approach so that they can learn to manage their own challenges and move eventually towards their academic goals.
Check our WA primary school tutors' profiles to know more about their qualifications and teaching experience.
Find best tutors from all across the Australia – Sydney, Melbourne, Adelaide, Perth, Newcastle, Goldcoast, Canberra, Brisbane.
To make it easier for you to decide, your first session is completely FREE!
Select and book a tutor for Math, Science, English and all the other subjects.